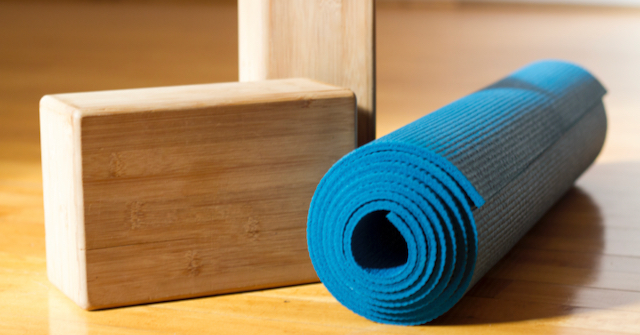 I couldn't fit everything I wanted to say about props for prenatal yoga into one post. You'll have to wait for part 2 next week!
In the mean time, I gotta say, we love our props at MamaSpace Yoga. When my students come in the door, I tell them, "Grab one mat, three blankets, three bolsters, one strap and two blocks. If you have sore or sensitive hands or wrists, get four blocks. We will use them all. We are rich in props."
Before I took an Iyengar-based prenatal yoga teacher training, I hadn't used props very much in my own yoga practice. I honestly thought they were for beginners or people who just weren't very good at yoga. I know this is super judgy. I'm confessing it with great embarrassment.
Many years ago, I was visiting family in another city. While I was there, I took some Iyengar-style yoga classes. I was unimpressed. What I now realize is that the props themselves weren't the problem. The teacher just wasn't very organized. We had to stop practice periodically to stand in line at the back of the room waiting our turn to select the next prop the teacher told us we needed. When everyone had what they needed (again) we would resume practice. We repeated this ritual a few times during the course of each class.
My prenatal yoga teacher training changed dramatically how I felt about props. I learned to embrace props as essential tools for deeper practice. I'm so grateful for this experience. Without it, I may never have known the joys of prop-use in my own practice and the many benefits of props for prenatal yoga.
So, what kinds of props are we talking about? Everything mentioned above plus chairs and walls count as props.
If you're thinking about purchasing props for your home or studio practice, you can learn more and even order our favorite props here.
1. Yoga Mats

You really can't do without them. Why do you need a mat? You need it to prevent slipping in standing poses. Really, that's the main reason. You also need it for a bit of cushioning while seated or lying. In class we sometimes use them rolled or folded as additional support in certain poses, but mostly they keep you from slipping. Yoga mats come in a dramatic array of materials and prices. Your budget may be your guide. Some of them are made of renewable materials like cork or natural latex. Some are closed cell foam that can't get saturated with sweat and ultimately stink — a plus if you practice hot yoga (generally not recommended during pregnancy, though). Some are open cell foam that give a nice cushion, but can absorb the above-mentioned liquid. Weight may be a consideration if you are lugging your mat to and from studio classes. I use a Manduka Pro at home. If I'm lugging a mat around town, I usually opt for the Manduka Prolite. The mats we use in the studio are way less expensive than the Manduka mats. They work great. You really can spend as little as $10 for a yoga mat. Most dedicated yogis end up trading up for whatever nuanced features they desire over time.
2. Cork Yoga Blocks

I love, love, love cork blocks. They won't slide around (the stability factor again). They are super supportive. The downside(s)? They cost more and are, for sure, heavier than foam blocks — the other main block category.
What can you do with cork blocks?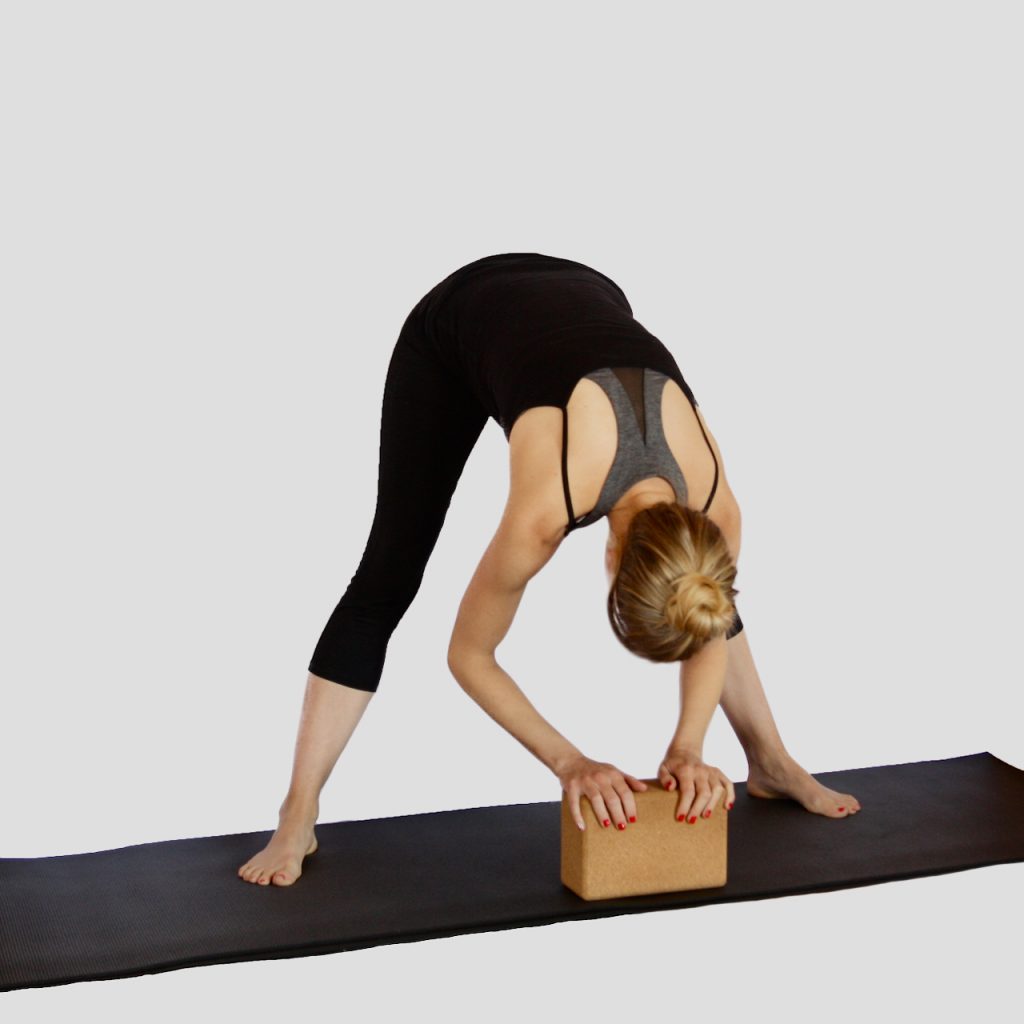 They bring the floor closer to your hands like this…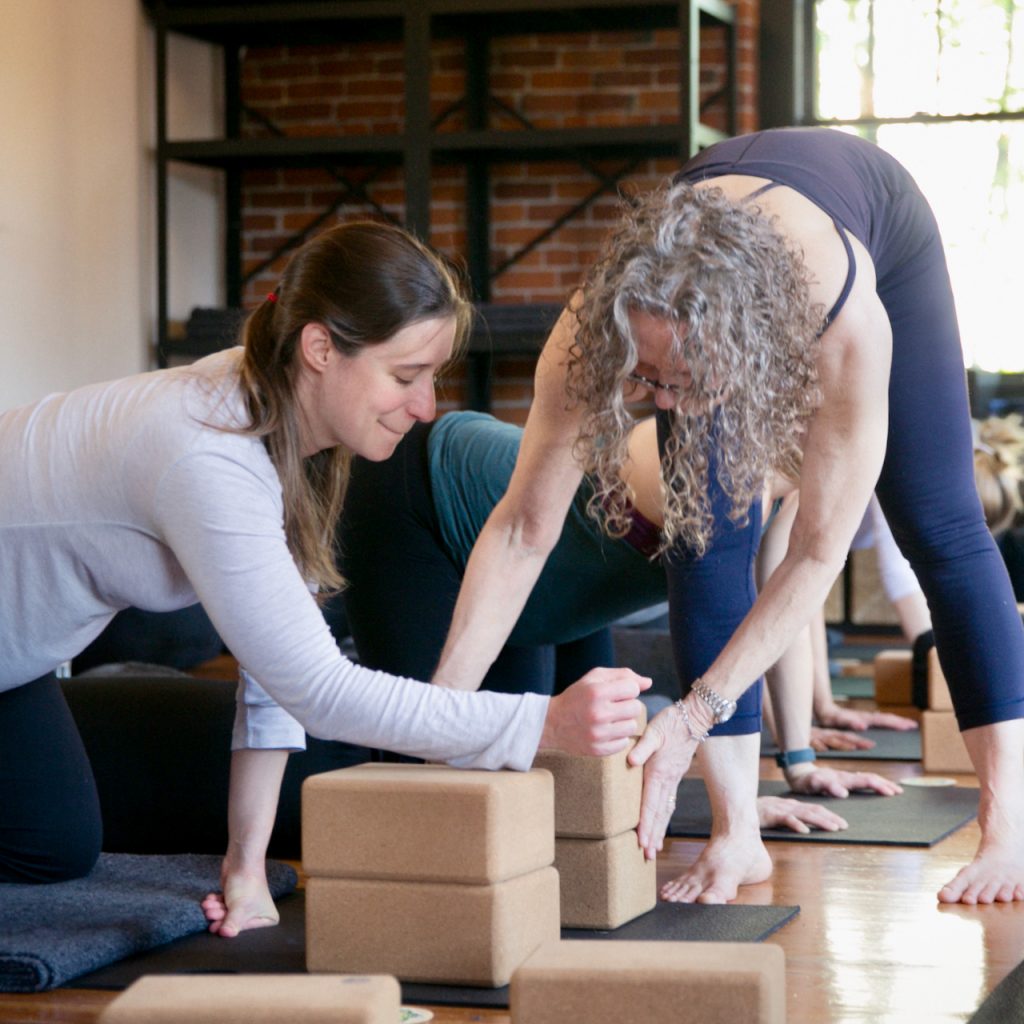 Blocks make hands and knees doable — no matter what.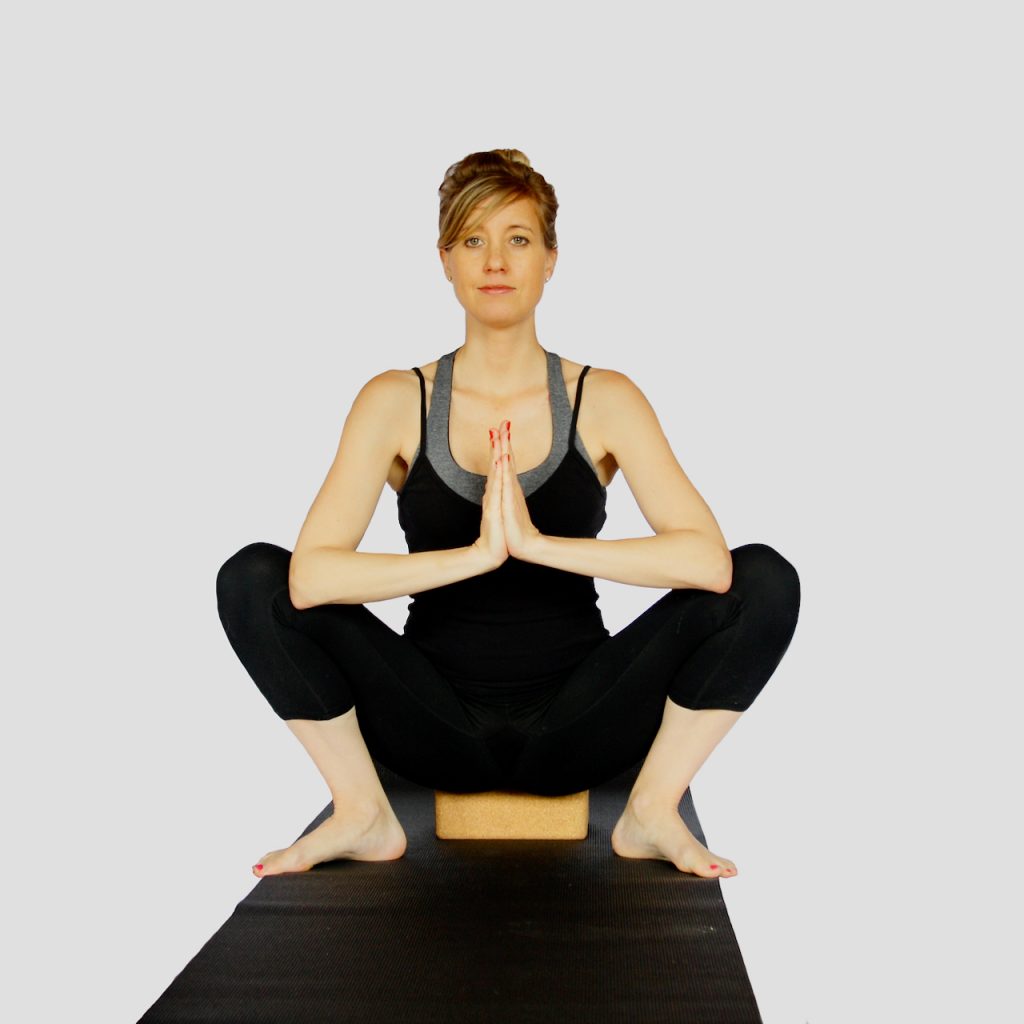 Or, they can provide simple support as in this supported squat…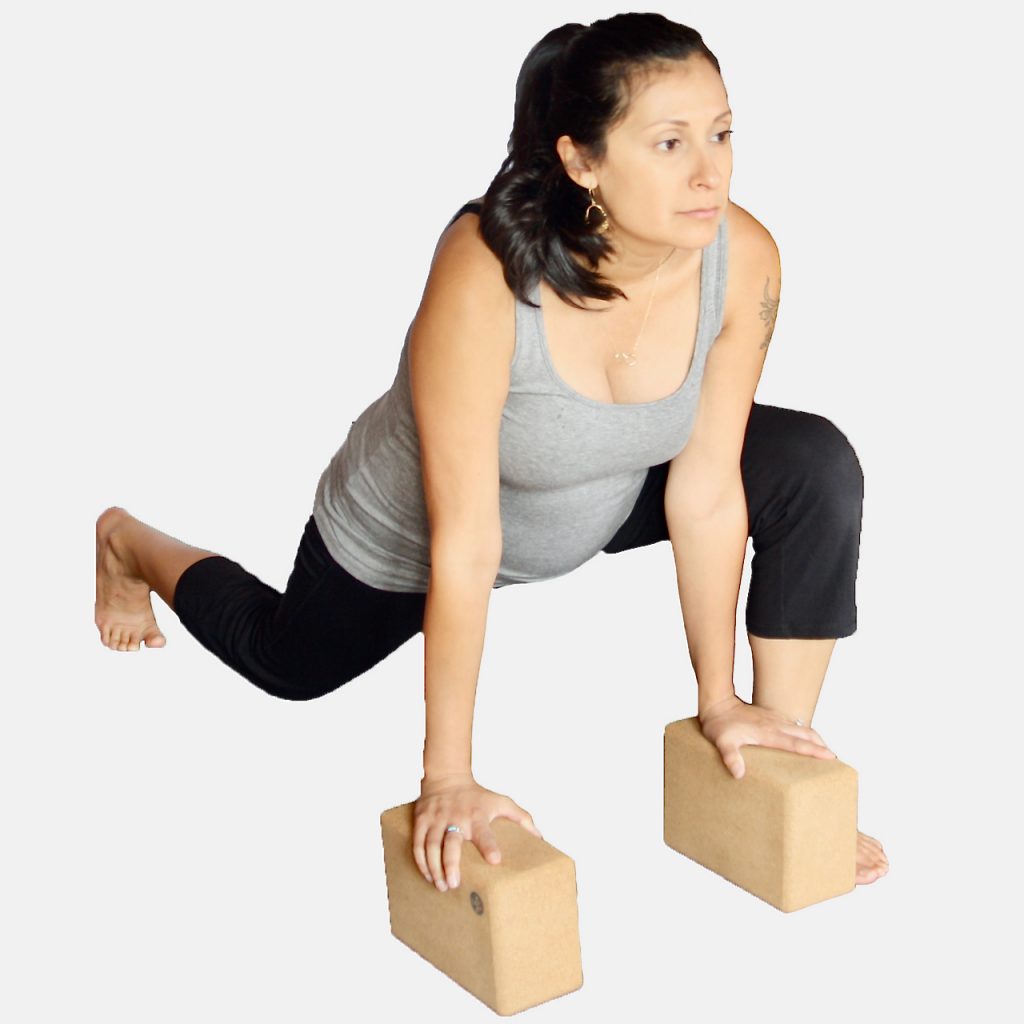 They can also enhance a stretch like this (notice that there is more opportunity to stretch hip flexors when using blocks in this way)…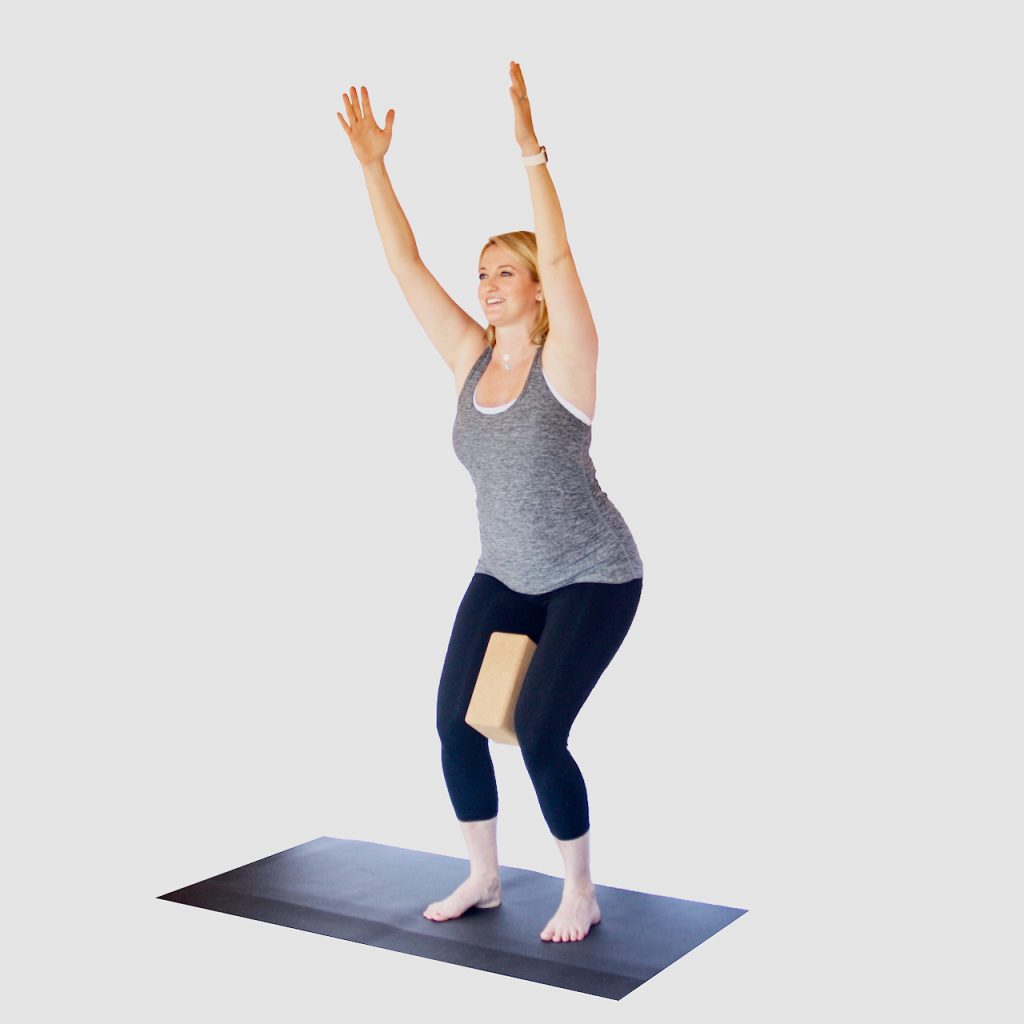 You can hold a block between your thighs/knees in certain poses to provide pelvic stability and help build hip adductor strength. Adductors are the muscles you engage when you press your knees together against resistance. The block provides the resistance in this case.
The examples shown above are really a small sample of cork block uses in prenatal yoga practice. Think triangle or half moon, for example, with the lower hand on a block. How about supported bridge with a block under your hips? Cork blocks may be one of our most versatile and essential props for prenatal yoga.
3. Foam Yoga Blocks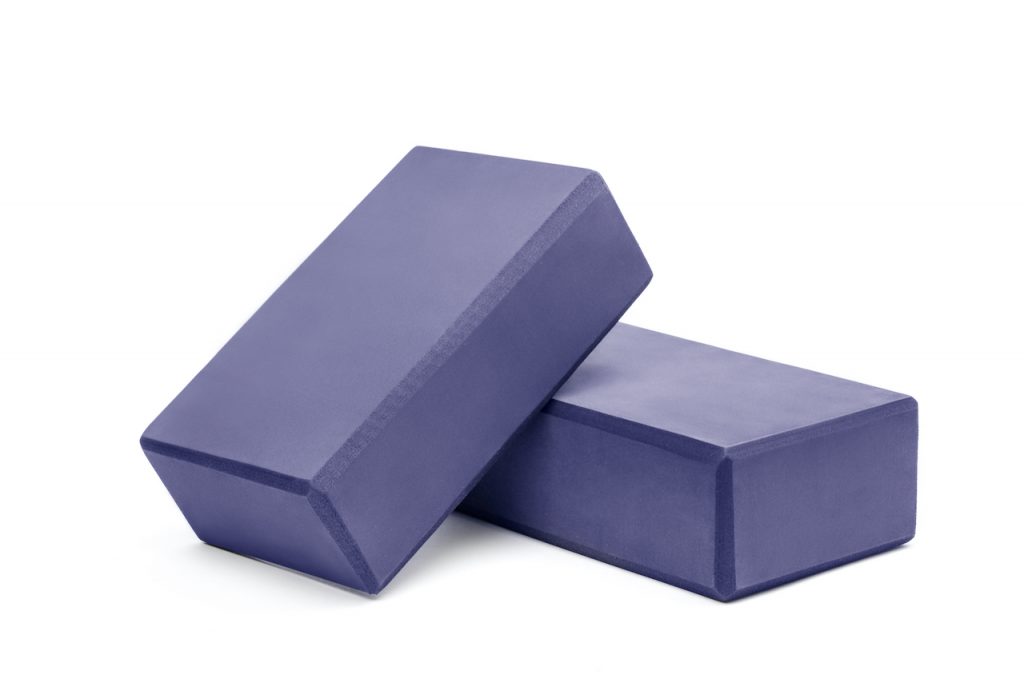 Why use foam blocks? The obvious benefit is light weight. This matters if you are carrying them around town. Foam blocks are often manufactured from less environmentally-friendly materials than cork — an important consideration from a renewable resources standpoint. Over time, if you get foam blocks sweaty they can grow new life forms and stink. Cork won't do that. It's naturally anti-microbial. In the long run, though, it may make sense to have both kinds. I do.
What Special Things can you do with foam blocks?
Do you have pubic symphysis pain (SPD)? If you do, a foam block is the perfect thing to hold between your knees while rolling over in bed, getting in and out of bed or getting in and out of a car. Keeping your pelvis stable is the key to preventing further instability and injury while reducing pain. Holding a yoga block (because it's the exact right size) between your knees prevents shearing at the pubic symphysis during movement. I especially recommend a foam block rather than a cork block for this because it weighs less. If you are out and about getting in and out of a car, you are more apt to carry a lighter weight block in your bag. If you don't have it with you, you can't use it.
One More Thing About Blocks
I don't recommend wood or bamboo blocks like the ones pictured at the very top of this page — at least not for prenatal yoga practice. They are too slippery to be stable, too hard to be comfortable and too heavy to lug around town.
4. Yoga Blankets
Using a folded blanket (or a stack of folded blankets) to slightly elevate the sitting bones can correct a posterior pelvic tilt. I believe that a posterior pelvic tilt (tail tucked) is associated with babies wedging into the parental pelvis. Wedging is not good. We want babies to be floating gracefully in and out of the parental pelvis until the onset of active labor.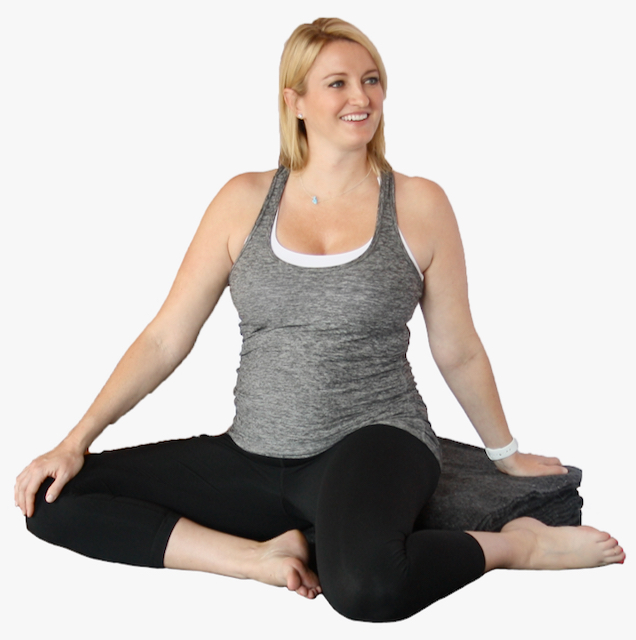 For seated poses, blankets are indispensable…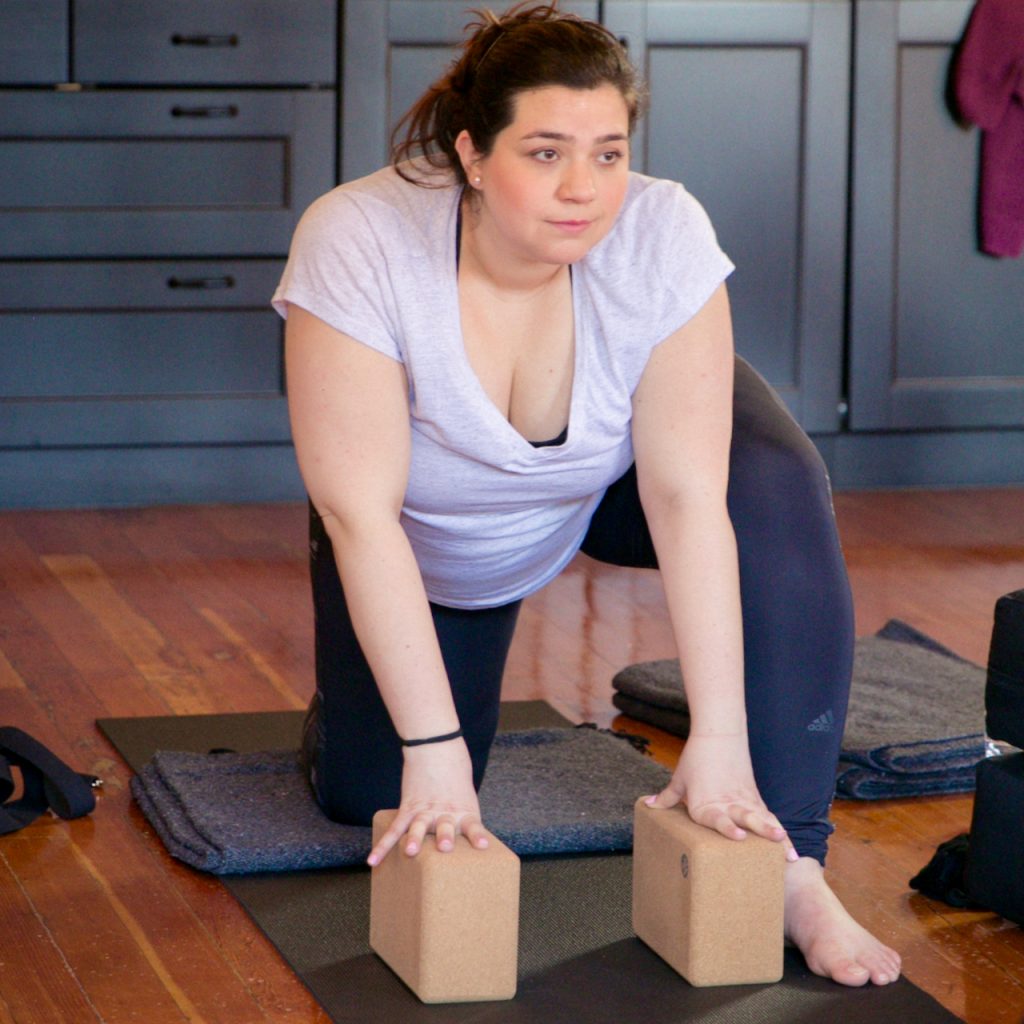 Blankets give the best simple cushioning for knees…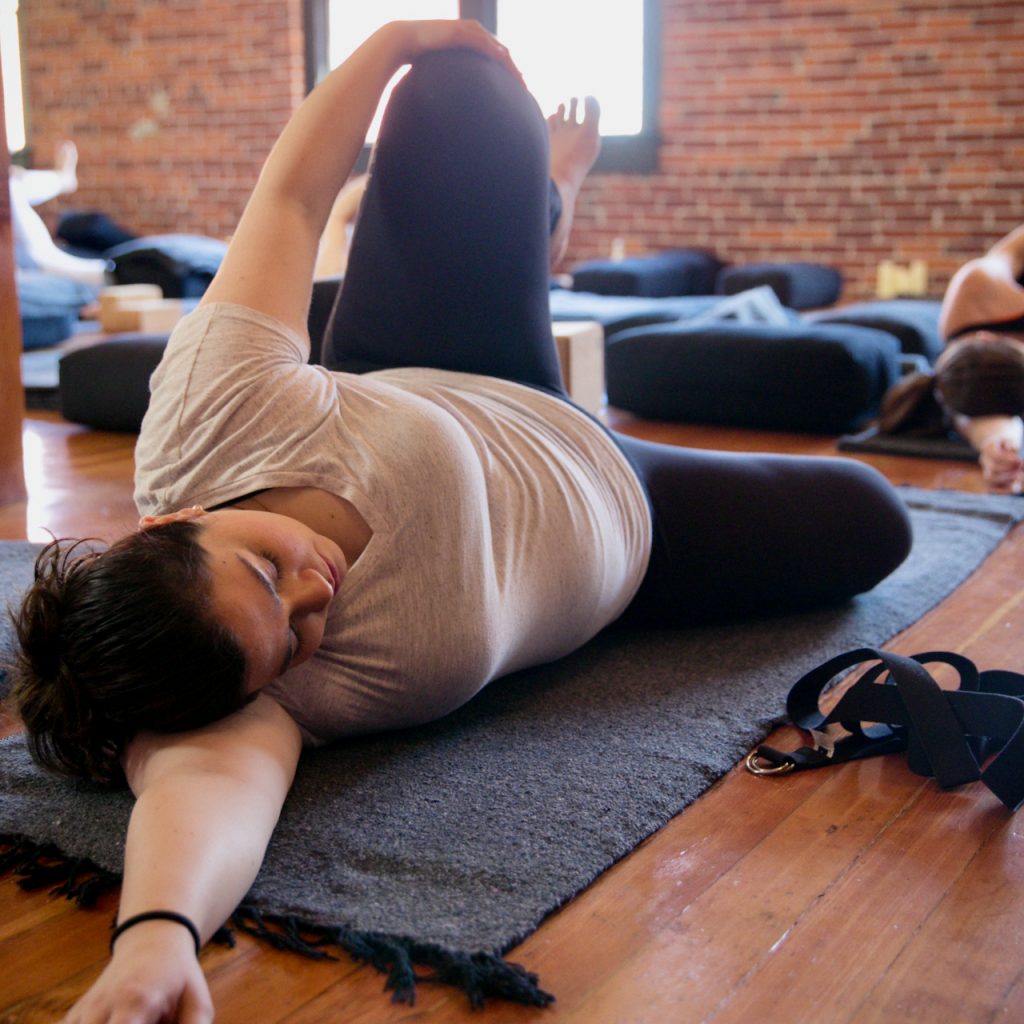 Blankets provide extra cushioning on a yoga mat for active side-lying poses and Savasana…
Remember, blankets are just the right thing when you need a little extra elevation, but less than what a bolster would provide. In certain poses, we actually want to slide our body parts on a yoga mat. Yoga mats are sticky, remember? You can slide more easily with a blanket between you and the mat. This is just a small sample of blanket uses for prenatal yoga. Are you feeling chilly in Savasana? Cover yourself with a blanket!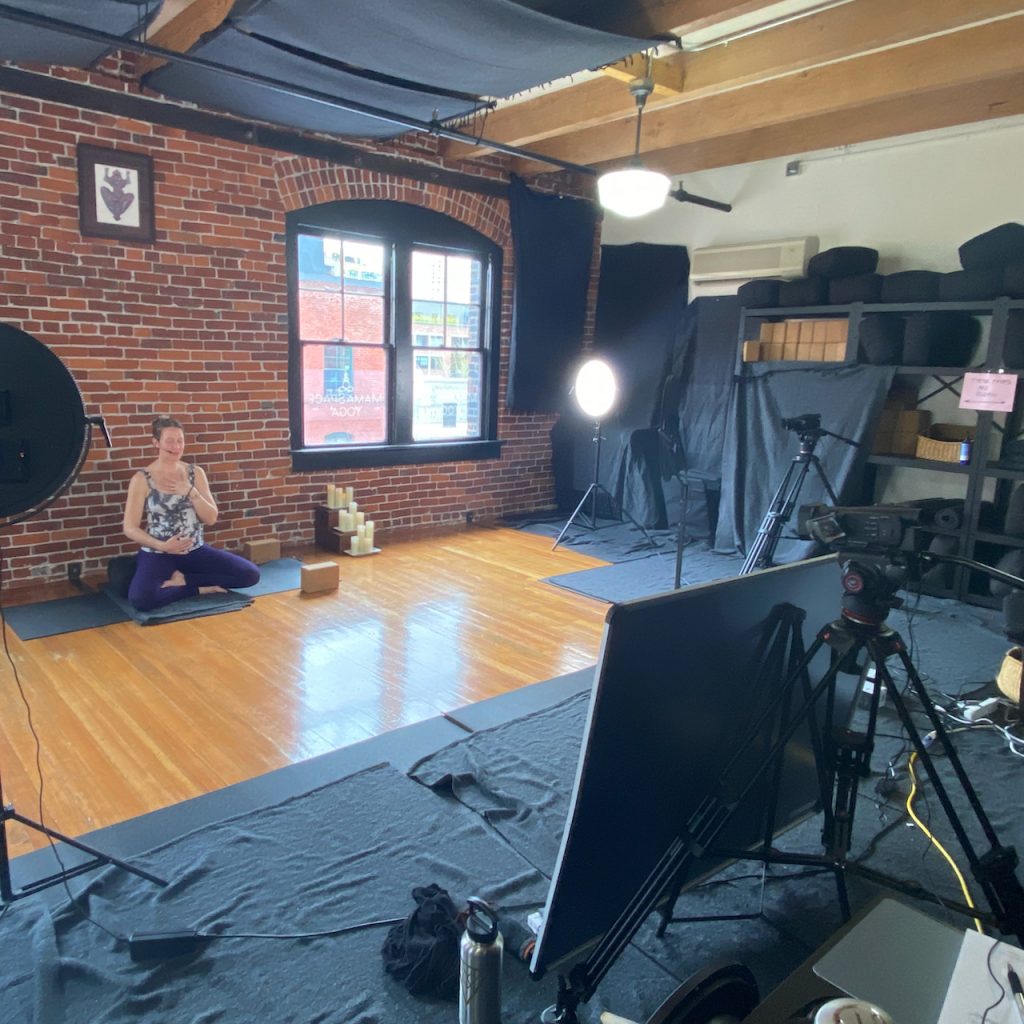 One last thing: We use yoga blankets to soften the studio for the best sound quality in our prenatal yoga videos.
Stay tuned for next week's post
Next week I'll cover straps, bolsters, chairs and… the wall.
About Carol Gray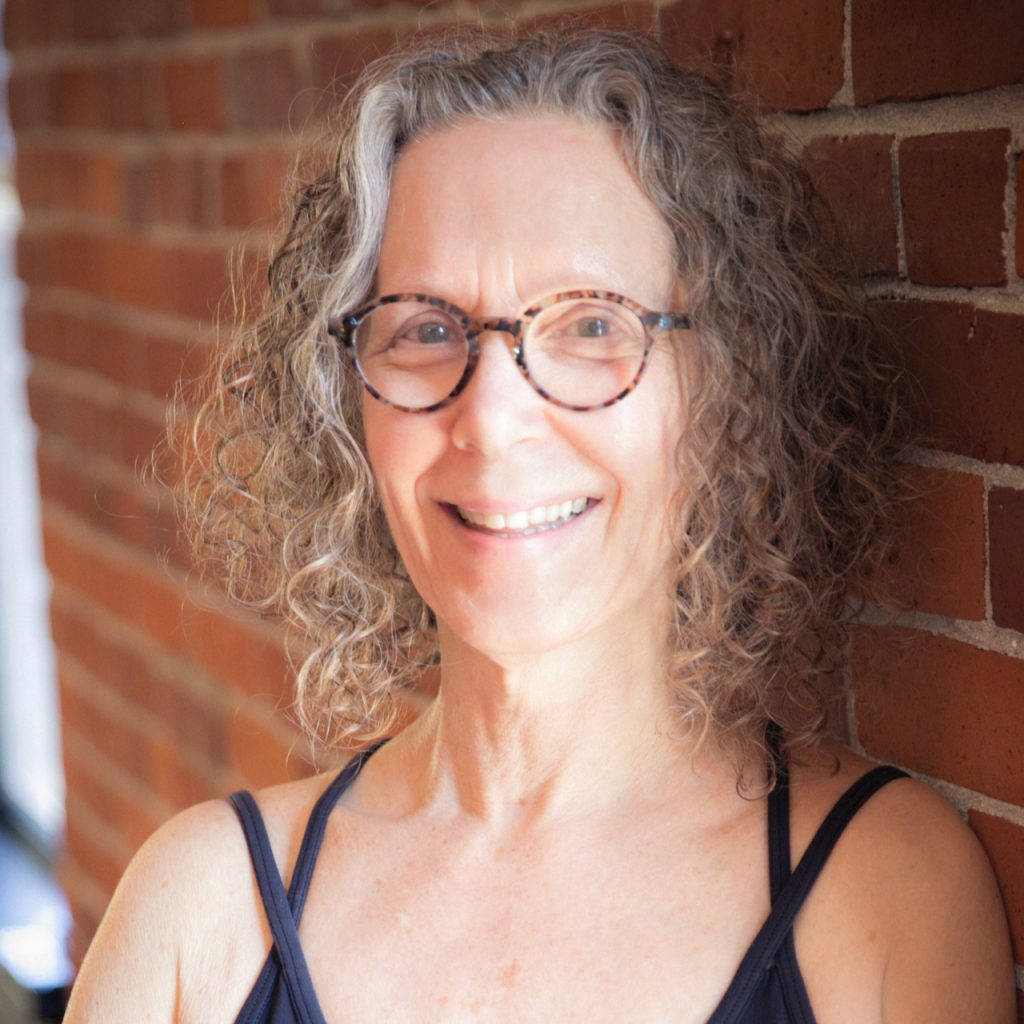 Carol is the founder and owner of MamaSpace Yoga. She has been a therapeutic bodyworker in private practice for over 30 years. She specializes in Craniosacral Therapy for pregnant and postpartum people and infants. Carol has spent years developing hands-on techniques to enhance the mobility in pregnant bodies including the bony pelvis, the abdominal organs, the support structures and lower segment of the uterus. She is  proud to have pioneered the integration of this gentle manual therapy into prenatal care, the birth place and postpartum care for birthing parents and babies. The goal is to give babies more room to develop, grow and get born. Her specially-designed yoga classes have grown naturally from the roots of bodywork and yoga.
Carol has dedicated her professional life to supporting expectant and new families by promoting gentle aware birth. She has attended births for over 35 years – at first as a doula and from 2000 to 2012 as a midwife. She has since retired from attending births in order to focus on practicing and teaching CST and prenatal yoga. Her many years as a birth worker have forever changed her and her worldview. Those experiences remain an integral part of who she is as a therapist and teacher.
Carol is the founder and director of the The Carol Gray Center for CST Studies®. She teaches high-quality, small group classes that are appropriate for bodyworkers, birth attendants and other health professionals. She is approved by the National Certification Board for Therapeutic Massage and Bodywork (NCBTMB) as a continuing education approved provider.