As promised, I'm continuing my recommendations for the best prenatal yoga props. Well-chosen yoga props will improve your practice. They will help you discover things that you might not otherwise encounter on your mat. What a perfect time to introduce this intimate self-exploration! The path of fertility, pregnancy, labor, birth and parenting are guaranteed to take you beyond what you already know. All of these "beyond" places are, of course, within you. They are not the Instagram-worthy moments sometimes associated with deepening or strengthening in your yoga practice.
The yoga props mentioned in both this post and in The Best Props For Prenatal Yoga — Part 1 look a lot like ordinary household items (if you squint) because originally, that's what yoga props were. They were things like books, cushions, pillows, belts, scarves, blankets, towels, chairs, etc.
While I am a big fan of using what you have and improvising when necessary, I also greatly appreciate the engineering and design that goes into these items that are specifically made to solve certain problems, meet specific needs and generally enhance your yoga practice. Over time, you'll learn how best to use the props you have – whatever you choose.
If you're thinking about purchasing props for your home or studio practice, you can learn more and even order our favorite props here.
1. Yoga Bolsters

When I was preparing to open MamaSpace Yoga, the one thing that had me wringing my hands and losing sleep was deciding which bolsters to buy. I loved the ones we used in my teacher training program. As near as I could tell, they didn't actually exist anywhere on planet Earth for sale, though. I searched like Goldilocks trying all of the ones that were available. Some bolsters were supportive, but incredibly heavy. Others were lightweight, but too squishy. Some were too big. Others were too small. Amazingly, some weren't washable. There were rectangular bolsters, cylindrical bolsters and half-round bolsters. My hair almost caught on fire while I tried to figure out how to spend my bolster money.
I absolutely LOVE the bolsters I ultimately chose. I wouldn't change a thing. The cotton cover zips off for washing. They are filled with (you guessed it) cotton. When you zip off the cover there is an inner liner surrounding the cotton batting that fills the bolster. So, there's no mess when you unzip it for washing – or to change out your bolster color. They come in many colors. I chose basic black. It's nice that you can buy replacement covers for them in case something really bad happens to yours (or if you are redecorating). They are heavy enough to be supportive, but not too heavy. You can carry two or three of them at a time across the room. They have just the right amount of give while still being very firm. Plus, they have handles on both ends to make carrying and positioning during use a lot easier.
What can you do with a bolster? We use them so many ways. Here are a few ideas: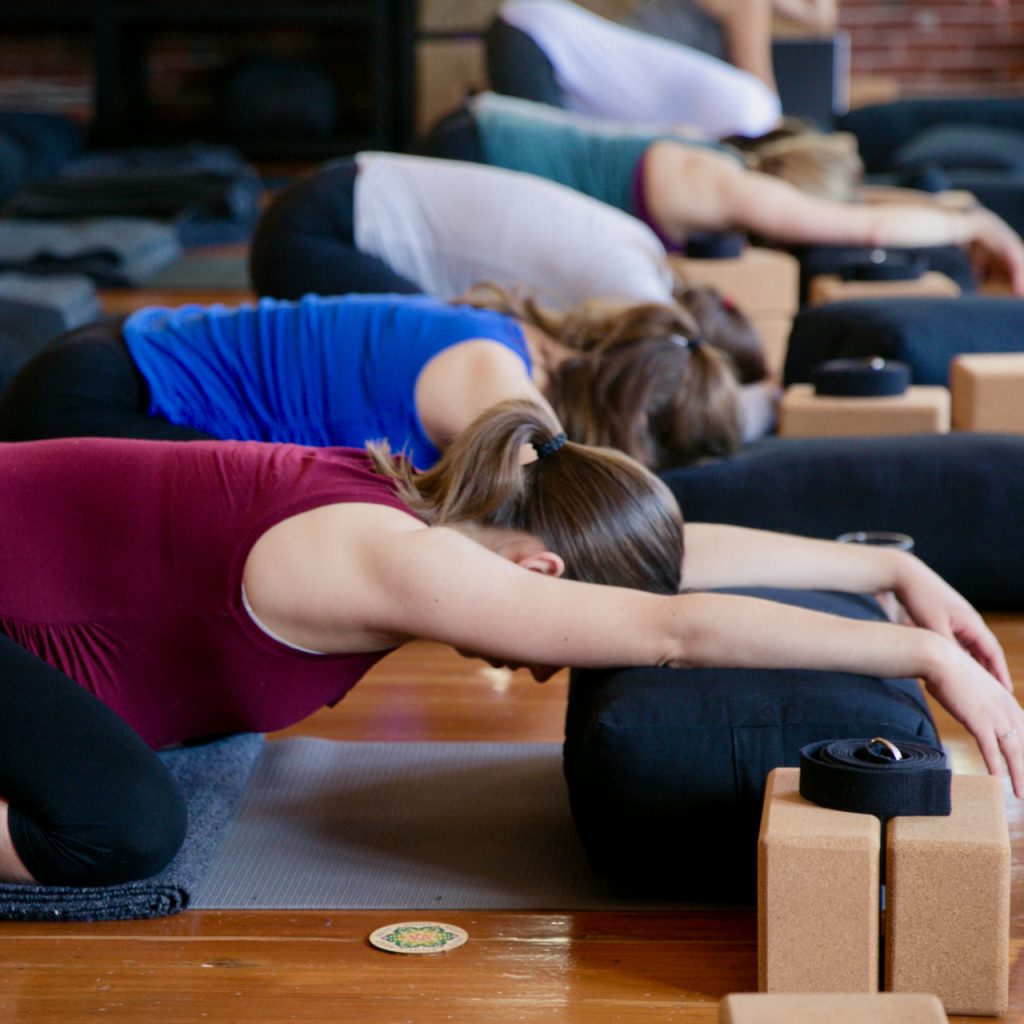 A bolster can make room for your pregnant belly in Child's Pose when placed lengthwise on the mat. Placed crosswise on the mat, it can make room for your  pregnant belly and at the same time provide a shoulder opener and an upper back stretch. You can see both variations in the picture above.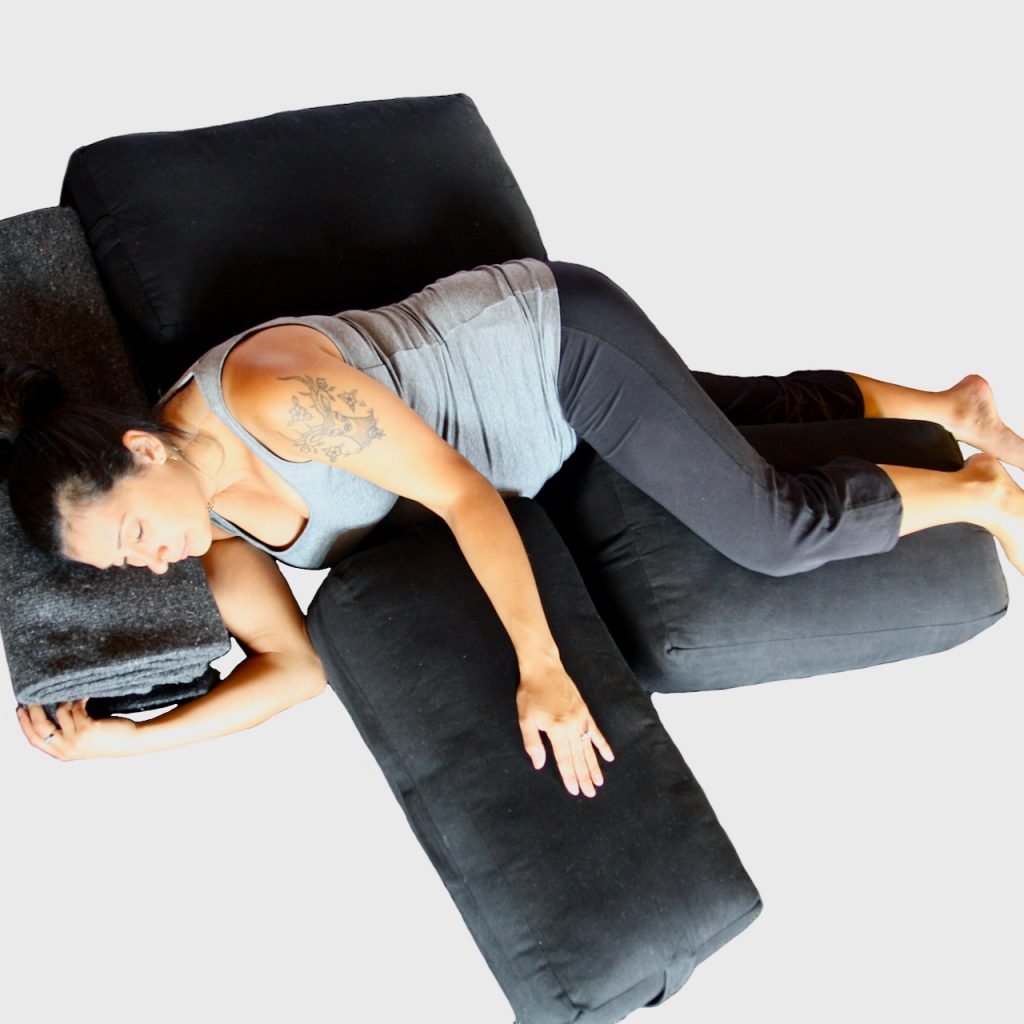 Bolsters are essential ingredients for a deluxe side-lying Savasana.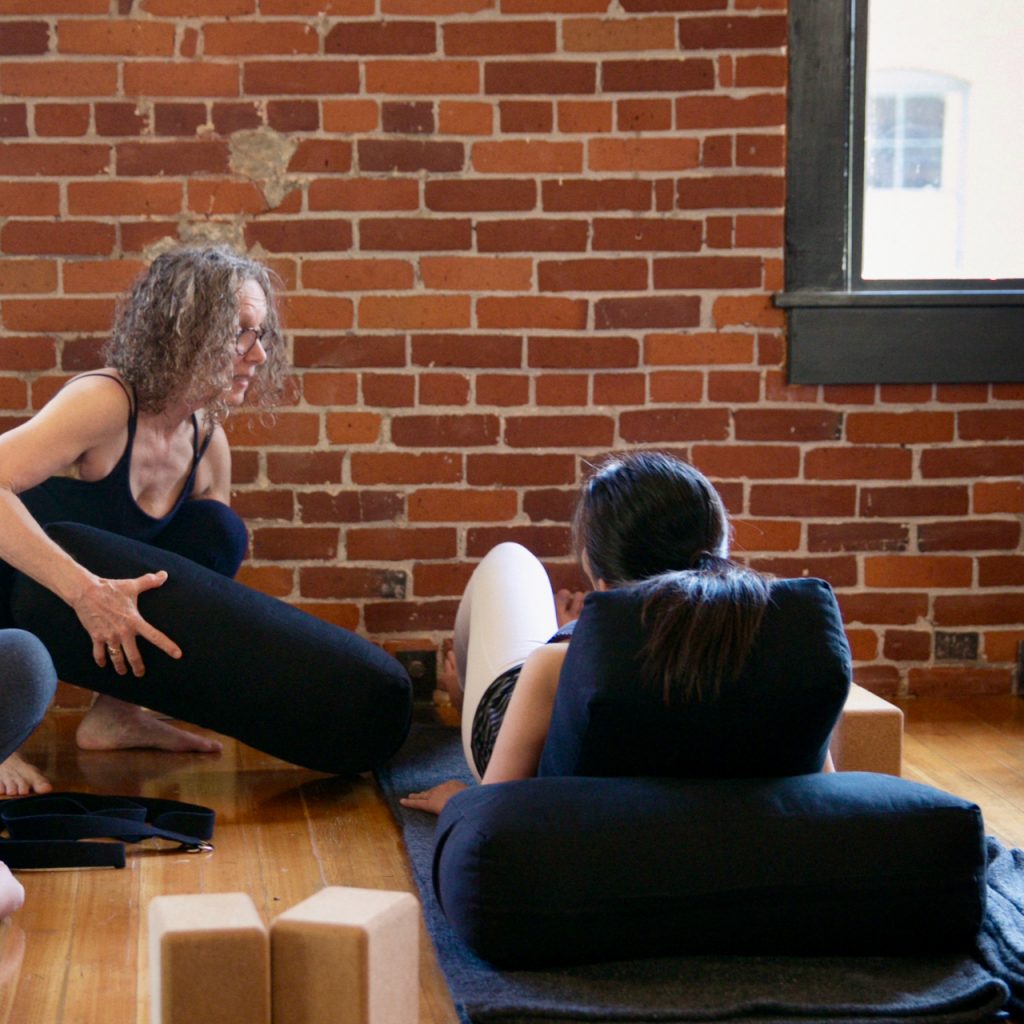 In a semi-reclining Savasana, a bolster placed under your knees takes the pressure off your low back. This feels really good.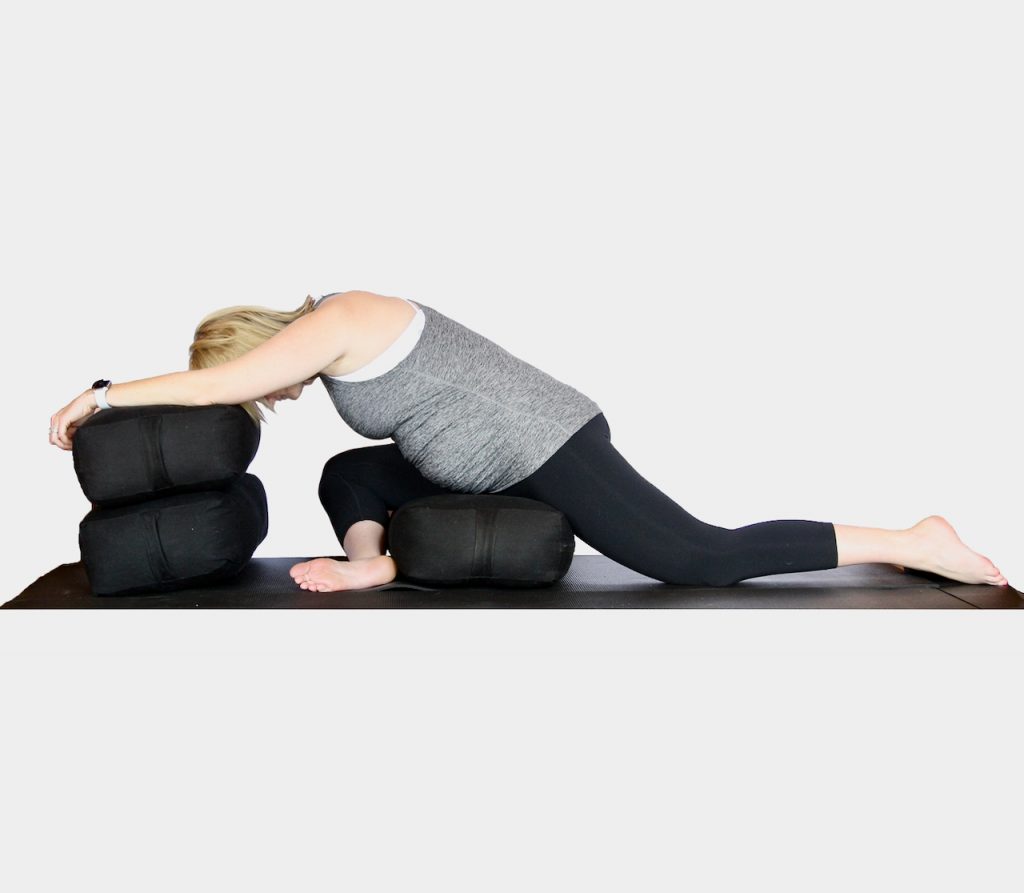 Sleeping Half Pigeon during pregnancy? Don't even try it without bolsters. By the way, this three-bolster setup is not the world's record for most bolsters needed to do this pose correctly. The forehead on "something" part is really important for making an energetic connection. The bolster brings that "something" closer to you.
2. Yoga Straps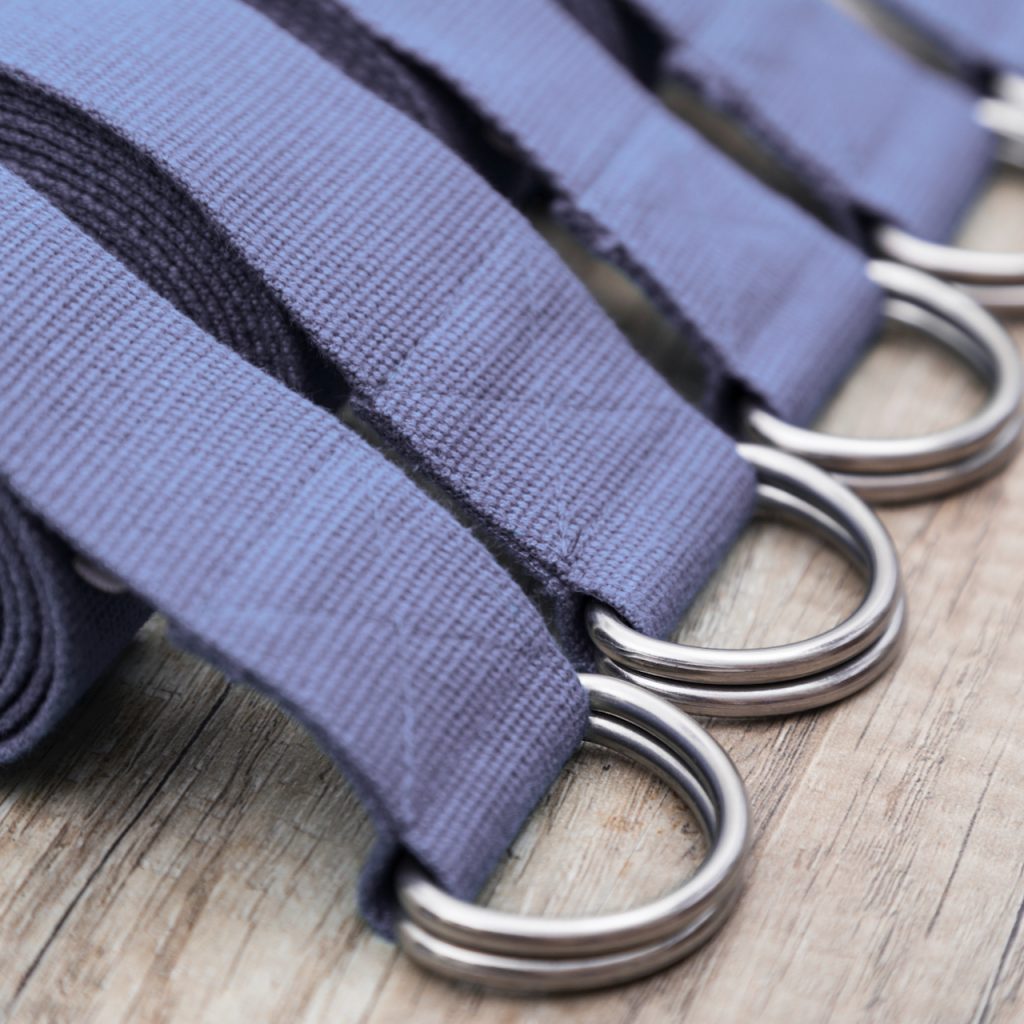 Yoga straps have evolved from belts and sashes that were used for yoga practice before someone started manufacturing them specifically for yoga. The D-ring buckle allows you to make a loop that won't slip. A strap should be at least 8 feet long. There is no downside to having it longer than you need. Shorter? Not so good. There are some fancier ones I like that have a quick-release buckle, but, really, the standard-issue D-ring strap works great. They are relatively inexpensive. You ought to be able to find one for under $10. I do recommend 100% cotton. Cotton is soft, but also is a little bit grippy. You want a strap to be non-stretchy and non-slippery for sure.
What kinds of things can you do with a strap?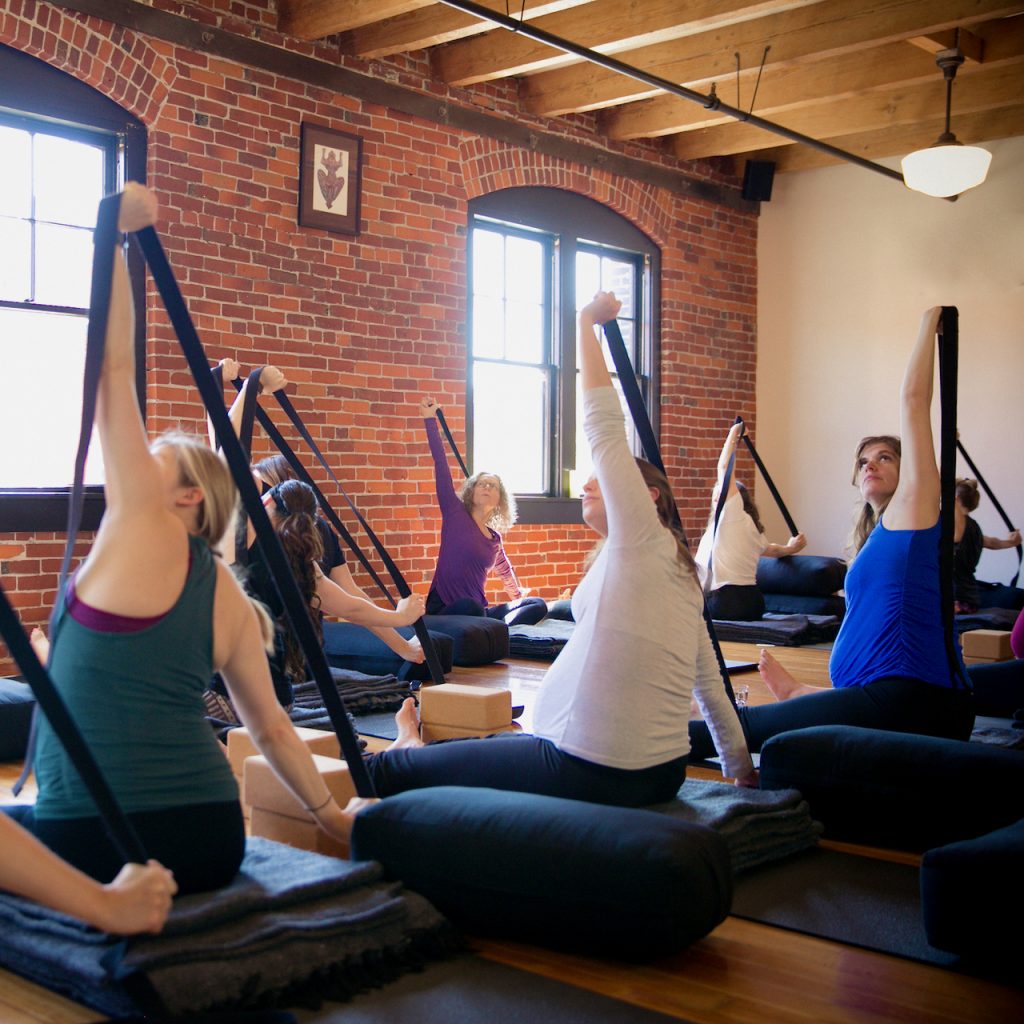 You can enhance shoulder openers and side body stretches like this…
You can always touch your toes if you use a strap. Incidentally, in this pose, Anatasana, the touching-the-toes part is almost irrelevant. The most important thing is to have your top leg straight with your heel pointed toward the sky. Anyone can do that with a strap.
3 The Wall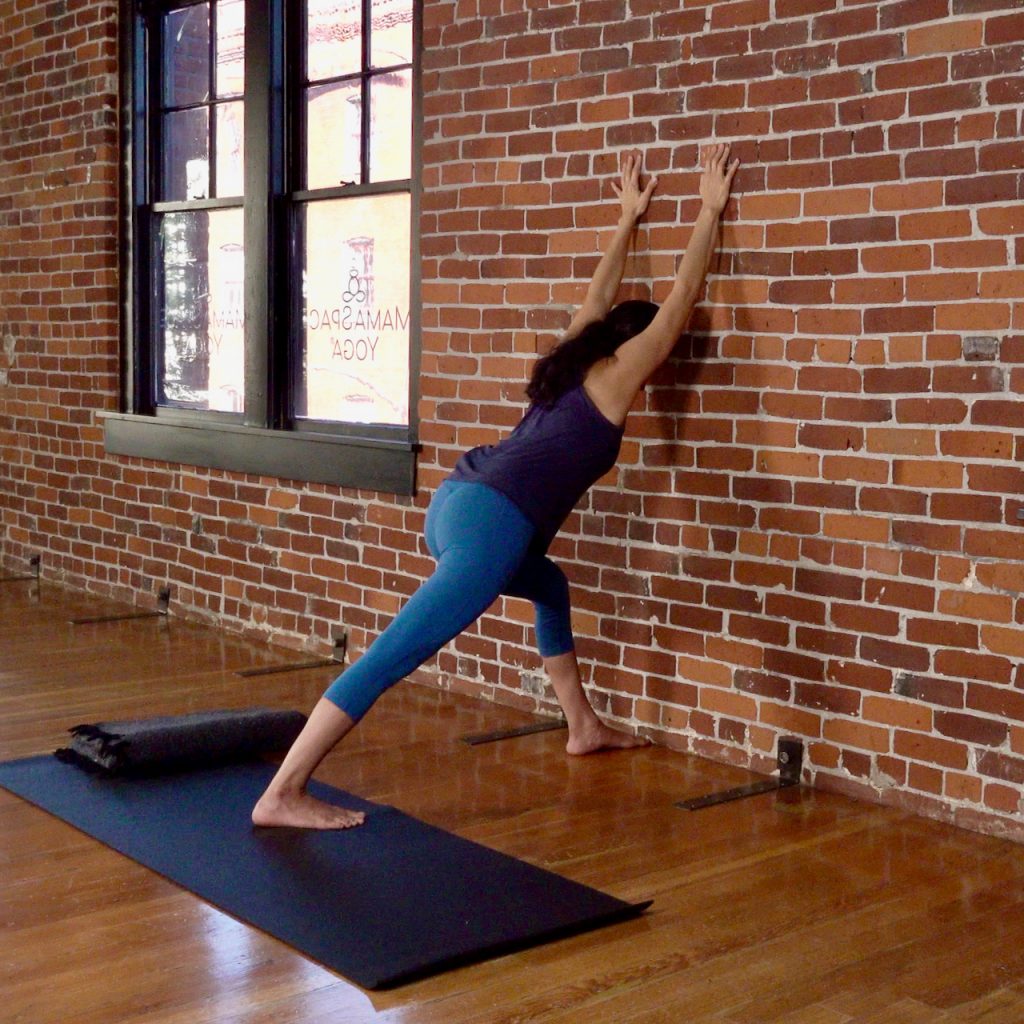 This is a photo of Amaryis Fernandes guiding a class called "Wall Werk". In this prenatal yoga video (as the title suggests) she makes extensive use of the wall. I like this picture because it looks like Amarylis is actually holding up the wall. It's a good reminder that props, including the wall, can deepen and strengthen your practice.
How can you use the wall?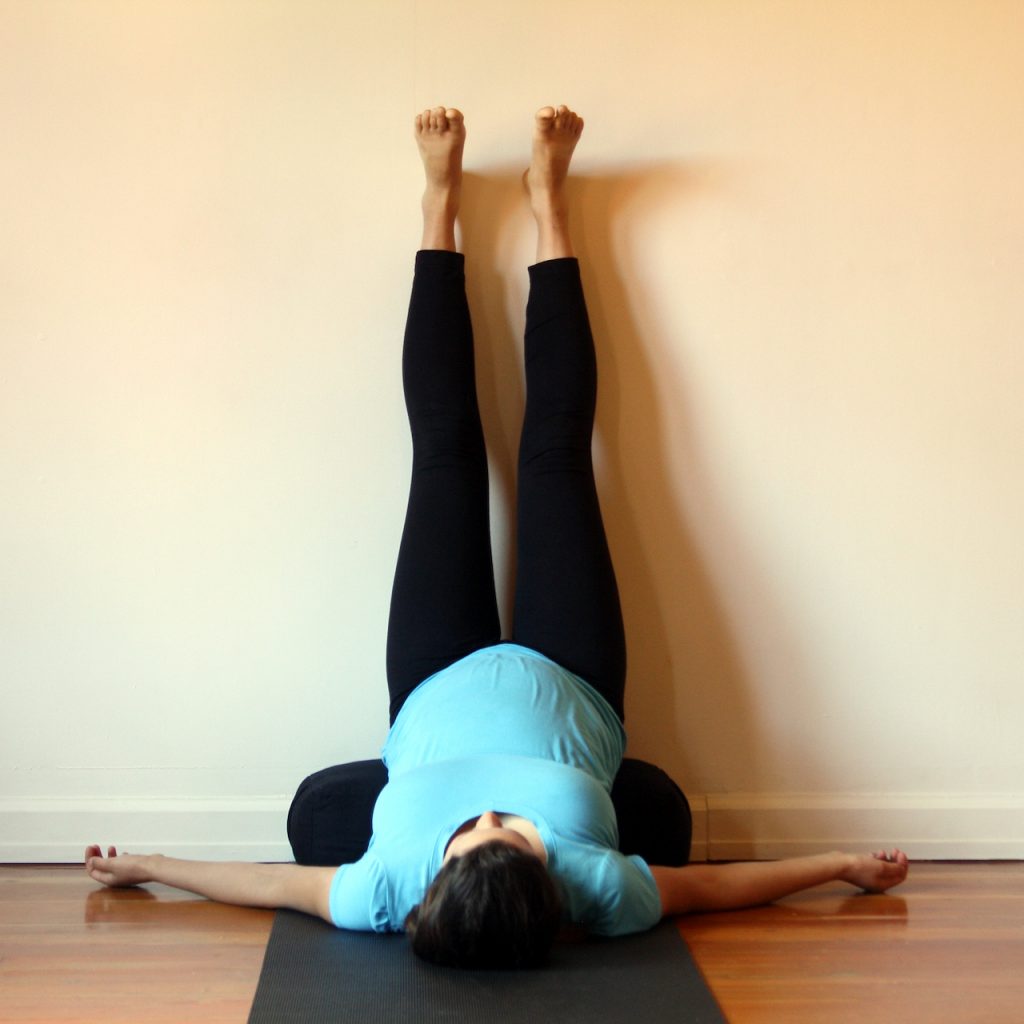 Legs Up the Wall is one obvious answer to this question. This pose is so beneficial for relieving swollen feet and legs during pregnancy. The wall and gravity are your friends. Try it at the end of the day. Notice the bolster in this picture? The addition of the bolster makes Legs Up the Wall a mild inversion because it elevates your hips. For some people who would not otherwise be comfortable on their backs, the bolster can make all the difference — especially during pregnancy.
Supported Shoulder Stand uses the wall. The wall makes this pose sustainable. It will allow you to stay there a while and get all the benefits.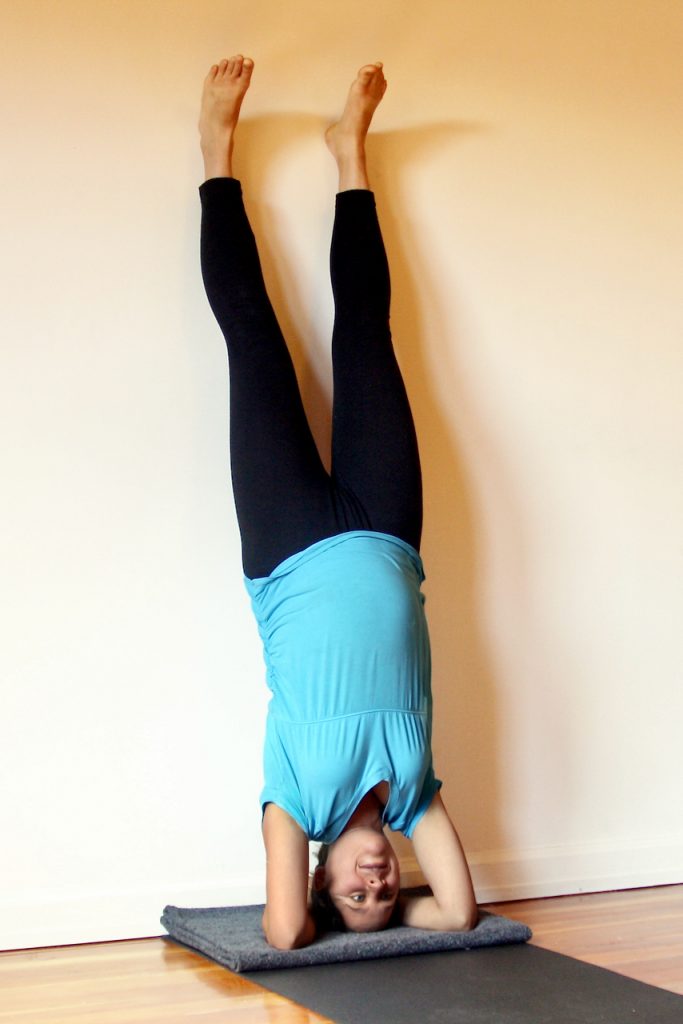 I couldn't leave out headstand. The balance part is actually not very important. What matters is getting upside down. The wall is the key to success here.
Here's one last wall idea. It's a clip of me, Carol Gray, guiding Ardha Chandrasana, Half Moon, using a wall. It's part of a prenatal yoga video called "Off the Wall". I hope you like it:
4. A Chair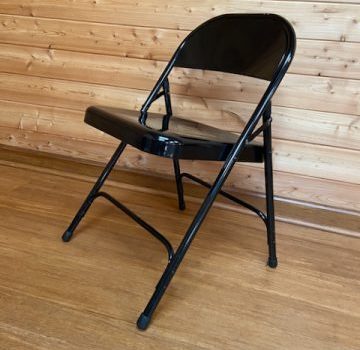 You can use almost any chair for yoga practice as long as it doesn't have arms. That said, even a chair with arms can work for some applications. Again, use what you have. A folding chair is great because it can be stowed away when you're not using it. It can be pulled out when you want to practice or when there is an extra guest for dinner. Later, you can put it back into the closet.
You can actually buy special yoga chairs that are similar to the standard steel folding chair pictured above. However, they have slight differences that make them a little bit more useful — especially for an Iyengar-style yoga practice.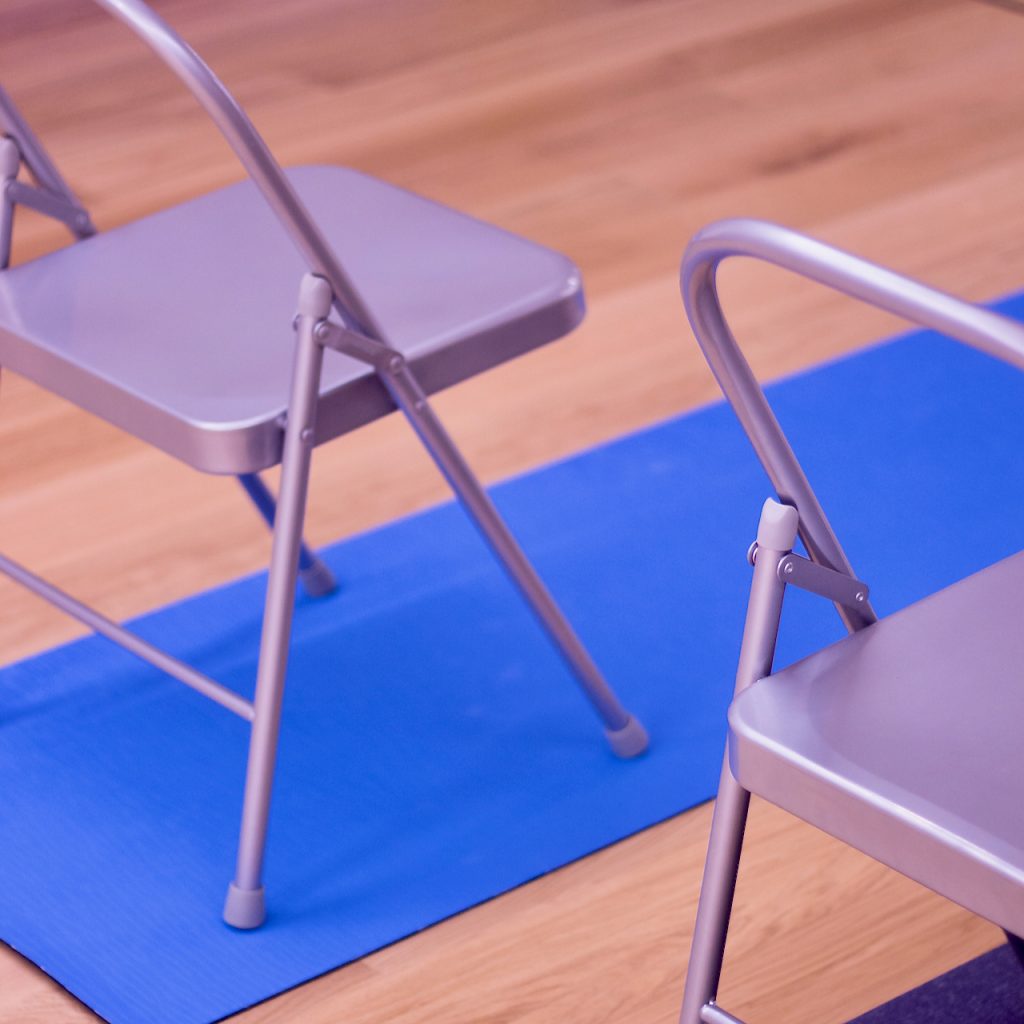 "Official" Iyengar-style yoga chairs are pictured here. The main difference between them and a regular folding chair is that the yoga chairs do not have the back rest. They just have the steel tubing. They also are missing the steel tubing between the two front legs. In almost all cases the standard-issue chairs work just as well as the yoga chairs. They are also a lot less expensive. Some people make a yoga chair from a standard steel folding chair. If you are DIY-inclined, get a chair and have at it with your pliers, hack saw and file. Many have gone before you and showcased their techniques on YouTube.
Besides providing seating for shoe-tying after yoga class, we use chairs IN class. Here's a short clip from one of my favorite classes, "Your Friend, The Chair". Wanda Velez is the guide. It's full of inventive ways to use a chair for prenatal yoga practice. Remember, it's not a crutch. It's a practice enhancer.
I hope you have enjoyed this two-post series about the best props for prenatal yoga. I also hope you got some ideas about how to use them. There are, of course, so many more.
Namaste.
About Carol Gray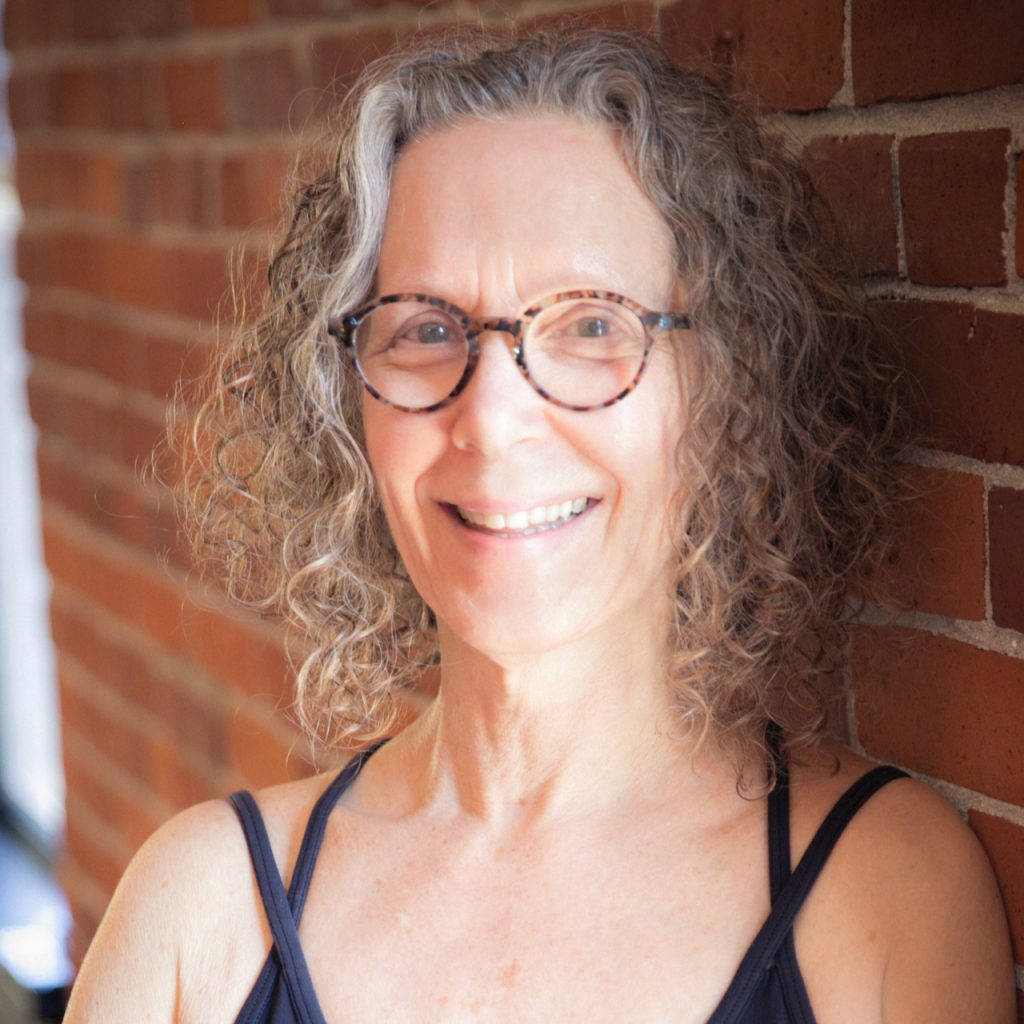 Carol is the founder and owner of MamaSpace Yoga. She has been a therapeutic bodyworker in private practice for over 30 years. She specializes in Craniosacral Therapy for pregnant and postpartum people and infants. Carol has spent years developing hands-on techniques to enhance the mobility in pregnant bodies including the bony pelvis, the abdominal organs, the support structures and lower segment of the uterus. She is  proud to have pioneered the integration of this gentle manual therapy into prenatal care, the birth place and postpartum care for birthing parents and babies. The goal is to give babies more room to develop, grow and get born. Her specially-designed yoga classes have grown naturally from the roots of bodywork and yoga.
Carol has dedicated her professional life to supporting expectant and new families by promoting gentle aware birth. She attended births for over 35 years – at first as a doula and from 2000 to 2012 as a midwife. She has since retired from attending births in order to focus on practicing and teaching CST and prenatal yoga. Her many years as a birth worker have forever changed her and her worldview. Those experiences remain an integral part of who she is as a therapist and teacher.
Carol is the founder and director of the The Carol Gray Center for CST Studies®. She teaches high-quality, small group classes that are appropriate for bodyworkers, birth attendants and other health professionals. She is approved by the National Certification Board for Therapeutic Massage and Bodywork (NCBTMB) as a continuing education approved provider.