This is part five of a six-part series. In part one, My Baby Dropped!, I explain why engagement is pathology. In part two, Why Did My Baby Get Stuck?, I explore the maternal factors that cause babies to get stuck. Part three is called Fetal Factors: How Babies Get Themselves Stuck. Last week I wrote Fetal Constraint: How Culture Immobilizes Babies. Today's post is about the fetal constraint downsides for labor and birth. Next week I'll write about how fetal constraint adversely affects the babies themselves — the things we notice after birth.
Fetal Constraint Makes Babies Late
Fetal constraint or lack of optimal fetal positioning prevents babies from experiencing their full movement potential in utero. Constrained babies have diminished ability to free themselves from a less than ideal position and move into a more ideal position. I believe Mother Nature doesn't like to start labor when a baby is fixated or stuck. That's because babies rarely get stuck in ideal positions for birth. Ideal positions for birth are ones that allow a baby to fit into (and ultimately through) the maternal pelvis with a little room to spare. If there's room to spare, babies will continue to move in a variety of ways including all the way down and back up again until active labor dictates the ultimate one-way movement direction (down and out).
I've observed that the stuck babies' labors are often the ones that don't start "on time". They may start and stop repeatedly over several days. Sometimes they seem like they are starting, but never develop a consistent contraction pattern — and then eventually peter out. Ultimately, even when babies are poorly positioned, labor will begin, or (more likely) be induced.
Other Things That Make Babies Late
Typical human gestation is considered to be 37 to 42 weeks from the first day of the last menstrual period. It used to be that 40 weeks was the average. Now in the US it's 39 weeks. This is due to a rise in inductions.
Before I discuss why stuckness might delay labor, I want to mention some other reasons (the top three) and acknowledge that in the end, Mother Nature knows best. "Late" babies do fall into some categories.
Genetics
Genetics is one of the reasons a baby can be "late". If you were late and/or your mother and/or sister carried babies longer than average, you are more likely to do it, too. Length of gestation seems to run in families. Do some families produce babies that develop more slowly and benefit from more time in the womb? I'm willing to believe they do.
First-Borns
Statistically, first babies also like to stay in a little longer — about 6 days on average. It makes me wonder if first babies (who have less experienced parents) need the evolutionary advantage of more maturity to improve their chances of survival once they are born. This could help them survive while their parents get the hang of things  — like feeding, for example. Feeding is hormonally-influenced in the early days, but it is also learned behavior for both parent and baby. A more mature baby would have an advantage while waiting out the parental learning curve. I have seen many "late-term preemies" born at 37ish weeks struggle at the breast and need lots of lactation support until they simply get a little older.
Boys
Boy babies gestate longer than girls.
I think the male baby thing is interesting. Male vs female conceptions are equal. The number of male fetuses vs female fetuses who are lost to miscarriage shifts and changes depending on the stage of gestation. Early on, more male fetuses are lost. Later in pregnancy, it's more girls. In the end, more boy babies are born than girls — about 105 boys for every 100 girls. However, more girl babies survive their first year of life. The overall survival numbers vary from country to country and have varied over time as we have conquered some infections and established things like neonatal intensive care units. Nonetheless, our boys are more fragile. Maybe there are good reasons why the boy babies want to stay inside a little longer. One of them would be to gain more maturity. On average, newborn females born at 40 weeks are developmentally and physiologically 4-6 weeks ahead of their male counterparts (also born at 40 weeks).
No Evolutionary Advantage With Fetal Constraint
The top three reasons for "lateness" (genetics, first-borns and maleness) described above carry with them a potential for evolutionary advantage. When the reason is stuckness, labor delay can be a disadvantage. Post-maturity is a real thing. Over time, the placenta — the baby's temporary external organ — doesn't always function as efficiently as it should. We also know that, especially for older parents and parents with certain health conditions, longer gestation is statistically associated with some adverse outcomes including a very slight increase in stillbirths.
How Does Fetal Constraint Delay the Onset of Labor?
We're back to fetal constraint and it's relationship to "late" labor onset. Why does this happen? I believe it may have something to do with the baby's presenting part not contacting the cervix at just the right angle. Now, you may be saying to yourself, "My baby was SO LOW for SO LONG. How could their head NOT be in contact with my cervix?" I say, angle matters. A chin not tucked or a baby head tilted toward one shoulder changes everything. I think this is especially true for an occiput posterior (OP) baby whose presenting part makes a stronger contact with the maternal sacrum (the genesis of so-called back labor) and a less strong contact with the cervix. Nuances of a baby's head position make huge differences in the birth process. The onset of labor is part of that process.
I've written extensively about things that can jam a baby too deeply into the maternal pelvis and prevent normal movement. It's important to note that some of the things — especially maternal factors — that get a baby stuck deep down can also work to prevent a baby's head from making it into the maternal pelvis at all. Examples would be restrictions in the maternal pelvic floor, stuck maternal SI joints, length and strength imbalances in the uterine support structures and immobility in the lower segment of the uterus. You can read more about maternal factors here. Stuck is stuck. They have to get all the way through the maternal pelvis to be born vaginally.
Once the labor gets going we then see the next set of consequences with the stuck babies — labors that don't progress normally.
Fetal Constraint Interferes With Labor Progress
Labor doesn't progress well if a baby is fixated. These labors take longer. They often stall around 6-7cm of cervical dilation. If the cervix DOES completely dilate with a fixated baby, they still can't descend all the way to get born. Their presentations are more likely to be OP, asynclitic, military or breech. All of these things are part of the recipe for a cascade of medical interventions that can lead to instrumental or surgical birth.
Arguably, there is some wiggle room in this. I have seen babies born with their hand next to their face or with an untucked chin and their head tilted to one side. I, myself, gave birth to a baby who was born in an OP position. It's doable to get a baby born vaginally from a less-than-ideal or stuck position, but the odds are significantly higher that things won't go well.
Mother Nature's Plan
The timing of the onset and the progress of labor are governed by a delicate interplay of hormones produced by the pregnant parent. A long technical discussion of birth physiology is beyond the scope of this article. However, I do want to talk about it a little. It's important to understand something about how things are supposed to work in the first place if we're going to understand the pitfalls of medical intervention.
The Love Hormone
Oxytocin is one of the key hormonal players in birth. Its chemical signature is warm and tingly. Oxytocin contracts smooth muscles.
 The uterus is smooth muscle. Oxytocin secretion causes uterine contractions during labor (and female orgasm!). When the uterus contracts in labor, the cervix thins and opens to eventually allow the baby to enter the vagina. For some reason that I've never understood, we have renamed this body part "The Birth Canal" for this one day only. The rest of the time it's a vagina. The vagina has stretch receptors that signal the brain to make more oxytocin as babies begin the final phase of getting themselves born. This stimulates the Fetus Ejection Reflex or the parent's urge to push/bear down in the second stage of labor.
Oxytocin has many other physiological effects for both male and female bodies that are fascinating to me, but off-topic for this article.
Oxytocin also has behavioral effects. These are important. One effect is decreased cortical function — a slowing of the thinking, planning and worrying part of the brain. This serves to send the laboring person to Laborland, defined by Dr. Sarah Buckley as, "The laboring woman goes out to the stars to collect the soul of her baby and bring it back." This is why laboring people usually can't talk in complete sentences and why I can't do calculus while having sex.
Oxytocin creates feelings of love and well-being. The highest levels of oxytocin in a female body occur in the moments just after giving birth. This is part of Mother Nature's chemical setup for babies and parents to fall in love.
All of the Uterine Contractions That Money Can Buy Without Any of the Love
Now back to the stuck babies and their overdue or stalled labors. How are these these babies' births medically managed? In most cases, we use IV Pitocin (synthetic oxytocin) to induce or augment (speed up) labor that has stalled.
In the US, 29% of people get it for inductions
. Another 51% of first-time parents (and a smaller number of second and subsequent-time parents) get it for augmentation. 99% get it right after the baby's birth
 to hasten the birth of the placenta and reduce the risk of hemorrhage. Ironically, that risk of postpartum hemorrhage increases as a result of Pitocin use during labor.
When Pitocin is given during labor, the amount of endogenous (home-grown) oxytocin/love hormone production dramatically decreases. Pitocin can't cross the blood/brain barrier. THIS IS A BIG DEAL. This means that Pitocin delivers the physiological effects (uterine contractions), without the behavioral effects (love).
If that wasn't enough, IV Pitocin is released into the bloodstream in a more continuous way than the natural pulsitile (short bursts) release of endogenous oxytocin. You end up with higher blood levels
 and stronger, longer, more closely-spaced uterine contractions. This can cause uterine hyper stimulation
. When the uterus contracts, it temporarily decreases maternal blood flow to the placenta. This temporarily decreases the flow of oxygen to the baby. Normal pauses between contractions compensate for this. Long, strong, closely-spaced contractions can compromise a baby and lead to a Cesarean birth for fetal distress. An induced/augmented labor requires closer monitoring
 because of this.
A Pitocin-induced labor is not fun for the birthing parent. It is more painful. Plus, there's the psychological factor of having something painful done to you by others. In an undisturbed birth, the experience of labor pain can reassure a birthing parent that their body is working perfectly to bring forth new life. It's super rare for me to hear about someone who had an induced or augmented labor without an epidural. And, believe me, I hear a ton of birth stories.
A Stuck Baby Leads to Pitocin Which Leads to an Epidural
Back in the 70's — when I gave birth — I estimated that in ten or so year's time almost everyone would choose unmedicated birth. The benefits of opting out of  narcotics for pain relief in labor seemed like a no-brainer to me. I figured that once people understood how narcotics adversely affect our babies, anyone in their right mind would choose natural birth, right? Obviously, I did not see epidural anesthesia, the Cadillac of childbirth drugs, coming down the pike. Nobody in the natural childbirth movement did.
Epidurals are considered regional anesthetics. They bathe spinal nerves and render the birthing parent numb and less mobile from the waist down. They provide great pain relief in childbirth.
Epidurals can slow contractions leading to Pitocin administration to speed things up (or more Pitocin if it's already part of the project). Epidurals decrease oxytocin release and its peak at birth because the vaginal stretch receptors are numb.
Epidurals can cause maternal hypotension (low blood pressure) which means a potential reduction of oxygen going to the baby. To counteract this effect extra IV fluids are given to the birthing parent. Pitocin (almost always part of this picture) has anti-diuretic effects. It makes people retain water. This extra fluid can interfere with breastfeeding later because swollen, boggy nipples are harder for newborns to grasp. What's more, it artificially inflates babies' birth weights leading to a freak out for everyone on day two when the baby has lost too much of their birth weight — actually excess fluid. This often leads to formula supplementation which can lead to breastfeeding failure.
Epidurals can cause unexplained maternal fevers that may lead to invasive septic work-ups for babies. When the birthing parent develops a fever in labor, doctors need to rule out an infection. A septic workup for a baby always includes blood draws. Usually babies get IV antibiotics, just in case, until culture results  come back (these can take three days). Some babies get a lumbar puncture (spinal tap).
We know that epidurals are associated with an increase in OP, asynclitic and military presentations. They are also associated with an increase in instrumental births (vacuum extractors and forceps) and surgical births (Cesarean). Cesarean births are safer than they used to be. They have high cultural acceptance…AND they are more dangerous for babies and their birthing parents than vaginal births. People who have cesarean births are 80 percent more likely to have complications than those who give birth vaginally. The risks are lower for babies. Although, I can't stop thinking about one of them. One or two babies per 100 are cut during the surgery.
This last part about epidurals is the most important and least understood by the general public.
Epidurals cause less pain for parents and more pain for babies. I have written about this here. I urge you to read it. Incidentally, babies who are stuck in less-than-ideal positions for birth are more likely to have a rough ride out during a vaginal birth (or an attempt at a vaginal birth). They are more likely to get injured in the process.

Why Do We Want to Prevent Fetal Constraint again?
We want to protect our babies and, as best we can, avoid unnecessary interventions. Because we love babies, that's why.
Until next time…
Love,
Carol
About Carol Gray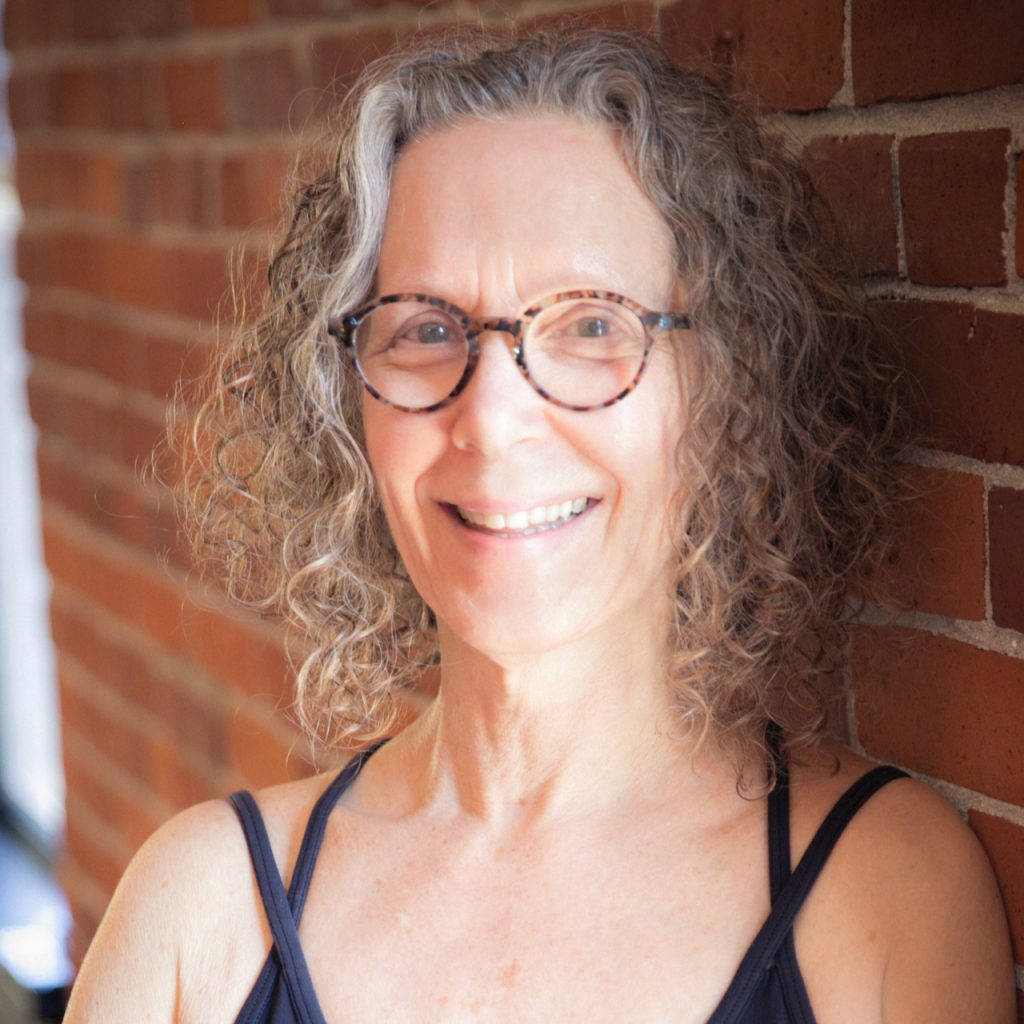 Carol is the founder and owner of MamaSpace Yoga. She has been a therapeutic bodyworker in private practice for over 31 years. She specializes in Craniosacral Therapy for pregnant and postpartum people and infants. Carol has spent years developing hands-on techniques to enhance the mobility in pregnant bodies including the bony pelvis, the abdominal organs, the support structures and lower segment of the uterus. She is  proud to have pioneered the integration of this gentle manual therapy into prenatal care, the birth place and postpartum care for birthing parents and babies. The goal is to give babies more room to develop, grow and get born. Her specially-designed yoga classes have grown naturally from the roots of bodywork and yoga.
Carol has dedicated her professional life to supporting expectant and new families by promoting gentle aware birth. She attended births for over 35 years – at first as a doula and from 2000 to 2012 as a midwife. She has since retired from attending births in order to focus on practicing and teaching CST and prenatal yoga. Her many years as a birth worker have forever changed her and her worldview. Those experiences remain an integral part of who she is as a therapist and teacher.
Carol is the founder and director of the The Carol Gray Center for CST Studies®. She teaches high-quality, small group classes that are appropriate for bodyworkers, birth attendants and other health professionals. She is approved by the National Certification Board for Therapeutic Massage and Bodywork (NCBTMB) as a continuing education approved provider.