Who has time to make nutritious food when you have a precious new baby? Real food takes time to prepare. Newborn families have little time to spare. As a postpartum doula I love creating food for hungry and tired parents. Over the years, I've developed a few winning approaches to help the families I serve get nourishing food into their bellies. This helps them heal, rest, and have time to bond with their babies. If you are preparing to help a new family, the *recipes* below will support you to be the best helper you can be.
What Can a Helper or Visitor Do?
If you are a helper or visitor in the home try some of these meal options to support birth recovery and the new-baby-in-the-home transition. The first two weeks at home are an especially important time to focus on the parents so they can focus on their baby.
What Would a Postpartum Doula Do?
The first thing I do to nourish new parents (after helping with breastfeeding and throwing in a load of laundry) is to rescue the produce from the bottom of the crisper. Postpartum families spend almost every waking minute holding, soothing, feeding and changing a baby. Fruits and vegetables get forgotten. I like to slice up and serve whatever is present and best eaten raw, then put the rest on to roast or slow cook.
Roasted Vegetables – Something Easy to Make
Almost Anything Goes

If you are staying with the family, try roasting the forgotten whatever-is in-the-fridge items. This makes the house smell amazing and provides several meals worth of yumminess.
Any combo of onions (red is my favorite), garlic, zucchini or yellow squash, yellow onions, cauliflower, red or orange pepper or any other vegetables (other than roots—these take longer to cook so I do them separately) will work well.
How to Roast Them
Douse in olive oil and seasoning (my favorite is Montreal Steak seasoning by McCormick).
Roast in a 425-degree oven for 15-20 min, depending on how soft you like them. They will be a little charred, but that's perfect.
What You Can Do With Them Once They're Roasted
Once you have everything roasted, you can do so many things. Just scoop them from the pan (because *hungry and tired*). Also try adding them to pasta, rice, or grain bowls. With a little bit of sharp cheese, some feta or chevre, you can make an amazing grilled sandwich. If you have stock or bone broth, throw them into a soup that will take 20 minutes or less to prepare. Add a can of beans for protein. You'll have the healing power of vegetables, with all of their vitamins, minerals, and fabulous fiber to help parents heal and give them energy for new-baby life.
A Frittata – Something They Can Eat All Day
How to Do It
If you are interested in quick protein and have morning duty in a new parent's home, the frittata is going to be your friend. You can sauté up anything you find in the fridge (I like a combo of meat, onions, and vegetables added to the pan in order of how long they need to cook). Add a big handful of greens, and pour an egg mixture over the top. I often use a half dozen eggs mixed with a little milk or water and then top with some cheese. When I start sautéing, I preheat the oven to 350 degrees so I can finish the frittata in there (be sure to use a pan that can go in the oven). Cook a few minutes on the stove, then finish in the oven for 10-12 min or until the middle is firm.
This comes out amazing. The best part is that it can be eaten at room temperature. The baby is likely to wake up and need to feed right when parents sit down to eat. (I think they *hear* the quiet.)
Limitless Add-Ons
There are myriad ways to dress this up. I have done vegetarian options with feta cheese, tomatoes and artichokes. For meat lovers I often add bacon or sausage, go heavier on the greens for balance and then add sharp cheddar to the top. Some parents eat this all day (and little else) so I add a container of cottage or ricotta cheese to increase the protein content and give them a creamy treat that makes them feel loved. If other people have previously dropped off dinners, I use the leftovers to make a new meal by adding them to the frittata in interesting combos.
What to Bring to a New Family
The Easy-To-Eat Meal in a Small Package
If you are not staying with the family but you want to make something to bring over, one new-parent favorite is the meal-in-a-small-package idea. These can go into the fridge so when the hungry parent opens the door, they see something in there just for them. It should be something that they can reheat to enjoy (or eat cold if they are desperate). I often see cookies and brownies get eaten first, probably because they are so easy to grab. If a fresh small package of a nourishing food were easily available, parents might favor that instead (and feel a lot better afterward).
If you are the maker of these fine bundles, be sure to wrap them in clear wrapping or translucent paper, so that when parents open the fridge, they will see the possibilities. Foil is awesome but parents won't open it for fear of the *old leftovers* and your gift won't be enjoyed. Wrapping each one individually ensures that someone will think, "This must be for me!" — just the feeling you want a parent to have when they are tired and hungry and want to feel your love.
This easy-to-eat food category is the perfect project for someone who loves the family and wants to make their life easier. It takes several steps. It's likely something that new parents wouldn't attempt on their own. They may abandon the project in the middle while cleaning up spit-up or trying to take a nap.
Twice Baked Potatoes
My favorite easy-to-eat item to make and deliver is twice baked potatoes. I also find galettes or puff pastry bundles work well, but my twice-baked potatoes are the easiest recipe ever.
After baking 6 giant russets (I use the microwave for this to save time and effort), cut off the top and scoop out about half of the inside. Mix this with a pint of cottage cheese, two cups of grated sharp cheddar (or whatever you like), a dollop of butter, some garlic salt and chives or parsley. Mix this loosely and stuff it back into the potatoes with a bit of grated cheese on the top. They look amazing. Re-bake them for about 10 minutes at 400 degrees or until the cheese melts and your house smells delicious.
What If You Don't Cook?
Parents who are beyond tired can't even scoop out a chunk of lasagna to heat up and eat. They need someone serve it to them while they hold or feed their baby. Don't be afraid to do this. Tired parents forget to eat. They often don't ask for what they need until they are desperate. They mean to feed themselves, but they get overwhelmed meeting their baby's needs and taking care of basic hygiene for themselves in between.
If you are a visitor, bring food. Take-out from a restaurant or deli is fine! Plate up the food. Serve it to parents. If you have time to do dishes, do those too. These are small things in the grand scheme, but they really help. Parents feel your love, get nourishment, and are able to nurture their baby with their whole selves. This is priceless.
If you are a new parent and want to know more about what to eat, check out this link to learn more about birth recovery food from guest author Katerina Baratta: What to Eat Right After You Have a Baby
About Kimberly Bepler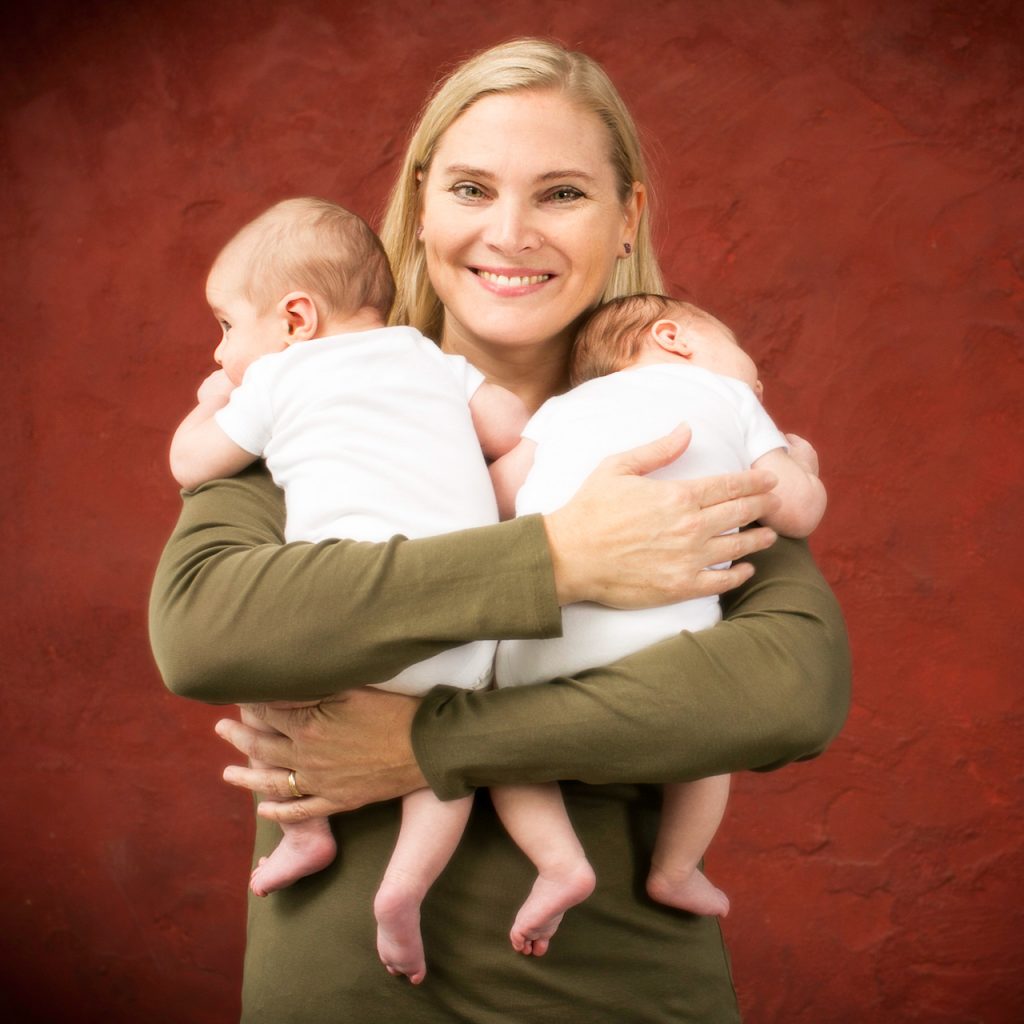 Kimberly Bepler, IBCLC, CPD, CLE, CNPE loves caring for families after birth! She has been serving families for over 20 years as a postpartum doula, lactation consultant, and new parent educator. Her group, ABC Doula & Newborn Care, is a team of 15 amazing doulas and educators who serve the Portland metro area. They offer classes, in-home care including overnight, and customized sleep support for tired parents of newborns and multiples.
Kimberly teaches newborn care and breastfeeding, as well as Twins and More classes within the Providence Health System. She also has a new online course for expectant and new parents who want to understand their babies called KNOW YOUR NEWBORN.
You can connect with Kimberly on IG or FB, or check out the offerings on her website.