I confess. I've been practicing yoga for decades and teaching it for (less than 10) years. I always attended yoga studio classes — even when traveling. In the Before Times, did I ever practice at home on my own? Uh, maybe I did it 7 times. I thought I loved the mindless aspect of being on my  mat, losing myself in the flow, not having to think up what to do next and simply following the teacher's instructions.
The Pandemic Changed Everything
Then came the pandemic. Just like everyone else, I was slammed with an array of new dilemmas. Like every minute of every other day, I had new choices to make. Do I practice online yoga? Do I practice on my own? Do I give up yoga all together and go for walks instead? I decided to practice on my own at home without guidance other than my own inner wisdom. It's a bit of a sacrilege to say this because I own an online yoga studio, but I actually have followed along with very few online yoga classes during this time. I really like doing what I feel like doing in the moment — doing what my body really needs. This is what I learned to love:
1. You're Never Late For Class
It's a choice thing. At home, you get to choose the time to practice — every time. For many years, I mostly attended yoga classes that started around 5:30 PM. That's when it felt best in my body and that's what fit best with my schedule. I practiced at other times, but mostly, it was between the bulk of my work day and my dinner hour (usually a late one by American standards). Not surprisingly, that's mostly what I do at home.
2. You Don't Have to Wear a Mask (Or Anything)
Yep. During a pandemic, the safest practice really is home practice. Peace of mind is priceless.
3. It's Private
I have discovered that it's possible to practice yoga in outfits that aren't the latest fashion in yoga clothes. In fact, they don't even have to be "yoga clothes" at all. I have some tank tops that my breasts usually manage to escape when I do a handstand. In the Before Times I only wore these tops as part of my "regular:" clothing, NEVER to attend a yoga class. If I happened to wear them during the rest of the day, I had to allow extra time to change into something more secure for yoga practice. Now I don't need to change clothes to practice. I can wear almost anything without concern. I have discovered that dog hair on my yoga pants, tops that don't coordinate with my bottoms and a tiny hole somewhere (even in the crotch) are utterly irrelevant and do not adversely affect my practice.
4. It Saves Time
You don't have to GO anywhere to practice. The commute is zero. You're already there and you already have everything you need. Did you ever stress as you circled the block for the third time looking for a space to park as the minutes-until-class counted down? Did you ever get to class and realize that you left your mat in your car? I have. Did you ever forget to bring a water bottle or a hair tie? No problem. You always have these within reach at home.
5. It Saves Money
Yep. Classes are free. You don't pay for gas, fancy outfits, bus fare, parking or any of the other expenses associated with going somewhere to practice. Did you ever get to class and realize that you packed two tops and no bottoms in your bag? I have — more than once. Did you then BUY a new pair of yoga pants off the rack at the studio so you wouldn't be late for class? I have — more than once.
6. It Keeps You Honest
Only you really know if you're working hard or just dogging it. If you are dedicated to finding and exploring your edge — that intersection of strength, balance, flexibility, body, mind and spirit — your practice will change for the better when it's self-directed. It's YOUR edge. For example, I have discovered that I like long holds (7-30 breaths) in strength-building and balancing poses. So that's what I usually do. It's my edge. As a result, I have gotten stronger and my balance has improved during the pandemic. Another example: I often felt in group classes that the teacher was guiding us to practice one breath/one movement flows a little bit faster than I actually breathe. I could move that fast, but I was hurrying my breath to keep up with the pace set by the teacher. I secretly longed to take a full deep breath and a complete, satisfying exhale in sync with my movements. Now I can. There's a great temptation to practice in a way that we think LOOKS right when we are in a group setting. That artificial element is stripped away when we practice on our own.
7. It builds Confidence
Hey, I'm a yoga teacher. In spite of that, I can practice at home, make it up on the fly, really enjoy my practice while I do the right thing for my body/mind. Will I go back to studio classes when the pandemic is over? Once in a while. I miss the people.
About Carol Gray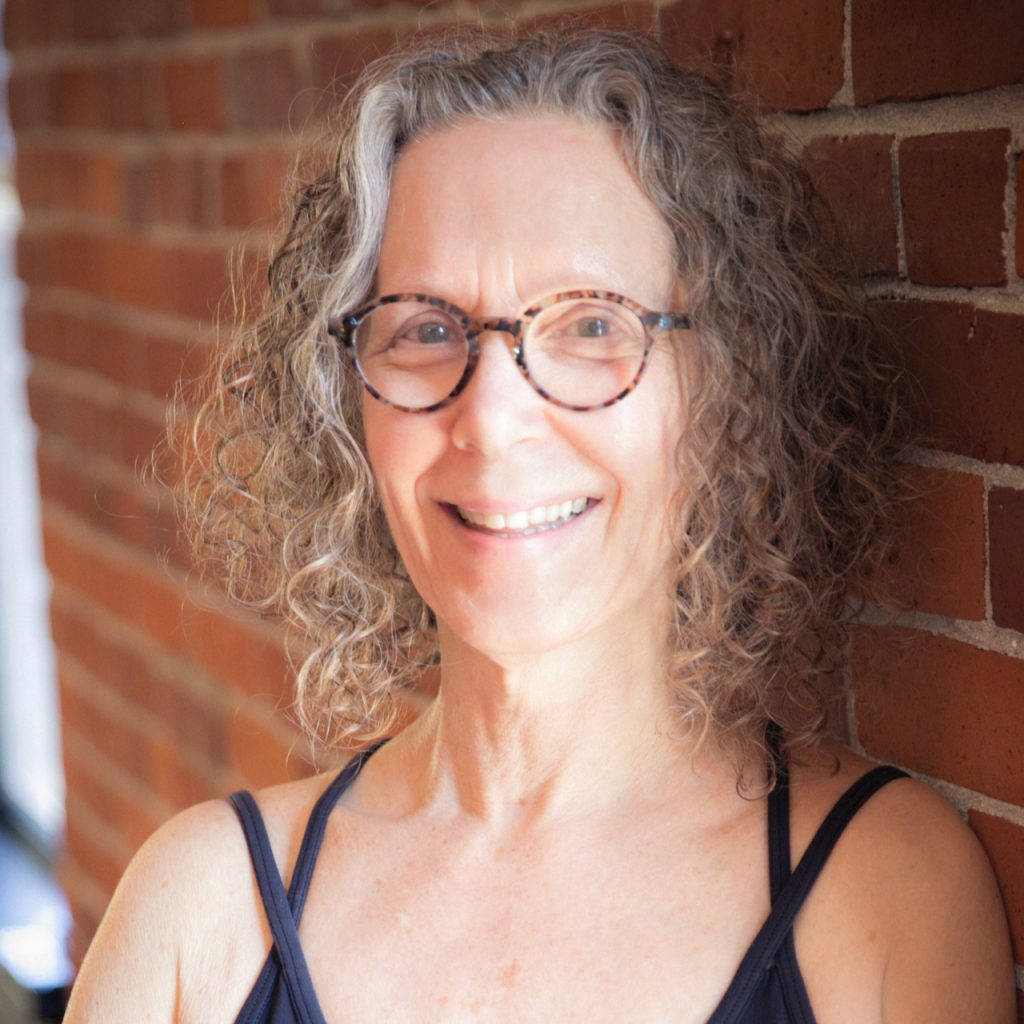 Carol is the founder and owner of MamaSpace Yoga. She has been a therapeutic bodyworker in private practice for over 31 years. She specializes in Craniosacral Therapy for pregnant and postpartum people and infants. Carol has spent years developing hands-on techniques to enhance the mobility in pregnant bodies including the bony pelvis, the abdominal organs, the support structures and lower segment of the uterus. She is  proud to have pioneered the integration of this gentle manual therapy into prenatal care, the birth place and postpartum care for birthing parents and babies. The goal is to give babies more room to develop, grow and get born. Her specially-designed yoga classes have grown naturally from the roots of bodywork and yoga.
Carol has dedicated her professional life to supporting expectant and new families by promoting gentle aware birth. She attended births for over 35 years – at first as a doula and from 2000 to 2012 as a midwife. She has since retired from attending births in order to focus on practicing and teaching CST and prenatal yoga. Her many years as a birth worker have forever changed her and her worldview. Those experiences remain an integral part of who she is as a therapist and teacher.
Carol is the founder and director of the The Carol Gray Center for CST Studies®. She teaches high-quality, small group classes that are appropriate for bodyworkers, birth attendants and other health professionals. She is approved by the National Certification Board for Therapeutic Massage and Bodywork (NCBTMB) as a continuing education approved provider.