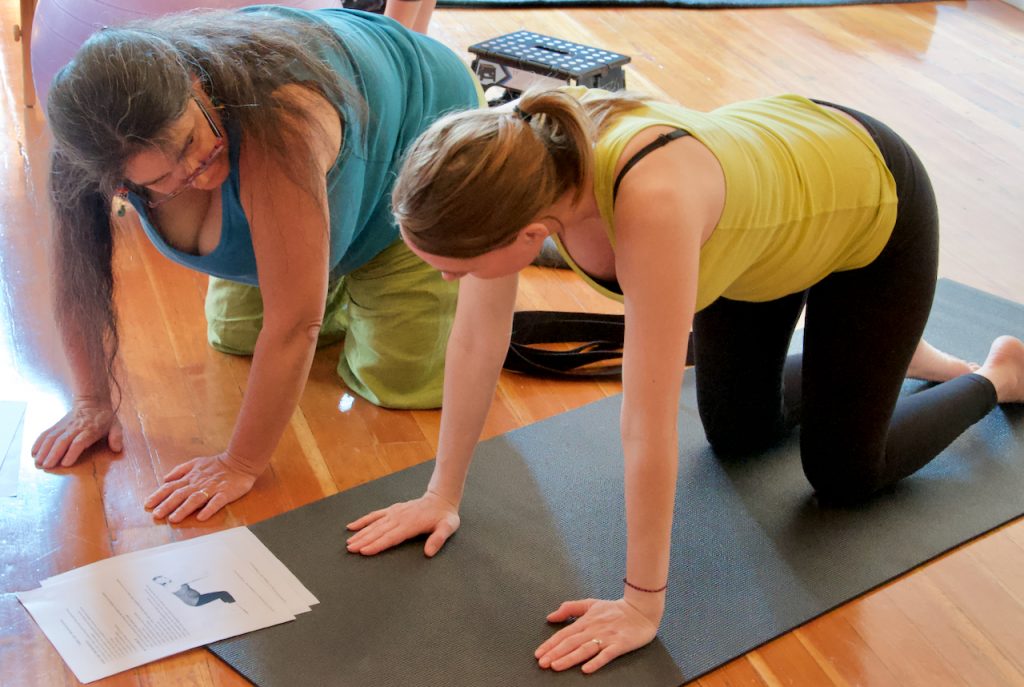 In order to receive your certificate of completion, you must document at least five-hours of reading/viewing/listening that will enhance your knowledge about yoga, pregnancy, the birth process (including cesarean birth), female pelvic and reproductive anatomy, etc. If you are not a reader you may substitute things like audiobooks, video, podcasts, live lectures, webinars or continuing education classes. I recommend that you choose something from the following list. Concentrate on an area or two about which you know the least. The more you know, the more you will get out of this training and the better you will be able to serve your pregnant yoga students. These experiences should supplement your knowledge base and enhance your work in a significant way. This is supposed to be a stretch. If you choose something not on the list below, we must discuss (via email or phone) your proposed selections in advance in order to to help you choose appropriately. You must get my prior approval for your reading/viewing/listening choices if hey are not on the list below. If you dive into something and then realize it's not appropriate for you, for any reason, please contact me so we can work together to find an alternative. We earn sales commissions from Amazon.

These books are specifically about prenatal yoga and yoga for women:
by Tina Lilly is an amazing book for prenatal yoga teachers to read and recommend to students. It is by far the best book I have read about moving through pregnancy and preparing for birth the yoga way. It is an eloquently-written part memoir and part guide. This book is about walking the talk through pregnancy and birth. It's a must-read.
by Geeta S. Iyengar is a wonderful book about yoga for women at all stages of life. She's B.K.S. Iyengar's daughter, BTW. You gotta have it on your shelf and, better yet, into your hands – read it.

by Linda Sparrowe and Patricia Walden is another Iyengar-inspired yoga text just for women. It has useful information about healing women's bodies and, of course, pregnancy sequences.
by Linda Sparrowe is written for yogis who want to continue appropriate practice during pregnancy birth and postpartum. I like this book because it gave me some ideas about sequencing and flow. It has recommendations for each trimester.
by Geeta S. Iyengar, Rita Keller and Kerstin Khattab – I love the illustrations in this book. I love the way the material is organized. The instructions are clear. This is THE book – really comprehensive. At first I was overwhelmed by all the props, but over time I have become accustomed to using many of them in my prenatal yoga classes. When B.K.S. Iyengar began teaching yoga to Westerners he found that they had difficulty with the practice. He used ordinary stuff from around the house to help – stuff like blankets, chairs, cushions, belts, books, benches, etc. This was the origin of the standard props we see in yoga studios today. So even if you don't have all of this stuff you can improvise.
These books are your anatomical/physiological/biomechanical guides:

by (my teacher) Leslie Howard is my new favorite book all about pelvic health. It incorporates lots of yoga (my favorite). It's good for professionals and good for a self-help recommendation, too.
by Blandine Calais-Germain. This book is amazing. Really amazing. The illustrations are fantastic. It takes us through all of the possible pelvic movements and explains their relevance to the birth process. I might make this REQUIRED reading for this class.
by Blandine Calais-Germain is accessible, accurate and has an emphasis on pregnancy and birth. It also has illustrated, clearly explained exercises to help people maintain good pelvic health.
by Gail Tully is written for pregnant people to help them figure out the position of their babies in utero.
by Jean Sutton and Pauline Scott – This book will help you advise moms about how to ensure their babies are in good positions for birth.
by Natalie Angier. This book was updated and republished in 2014. I don't know how the first version got past me. This is a spectacular book about women's bodies and how they work. It is READABLE and scientific – written by a Pulitzer Prize winning author who writes about biology for The New York Times. It's a little long. Read it anyway.
by Eric Franklin is a great tool for understanding the pelvis. The illustrations are good. It also has nice body-mind exercises to help increase our pelvic awareness. This book is meaty enough for the professional and also accessible for lay people. It has some great ideas for helping our students tune in and improve pelvic strength and mobility.
by Tami Lynn Kent – not really an anatomy book, but a wonderful book written by a PT who specializes in women's health.  This book focuses on women's self discovery of the pelvis as the source of feminine creativity and so much more. I highly recommend this one.
by Kerstin Uvnas Moberg is an amazing book. Remember the fight/flight/freeze system? We've all studied it. This book is about the other system: calm/connection/love/healing. We owe it to parents and their babies to understand as much as we can about this.
These books are about childbirth:
by Ina May Gaskin – Lots of birth stories plus sobering facts about the effects of medical interventions and strategies for avoiding them.
by Penny Simkin gives great biomechanical advice about how to position a mother to help a baby assume a good position for efficient birth – during labor.
by Jacqueline H. Wolf is a wonderful book. It's scholarly and readable. Until I read this book I thought I knew everything about the evolution of medicalized birth in America. I was wrong. When we are discussing people's birth choices it helps to know how we got here.
These books are About Postpartum Preparation and Recovery

by Courtney Key Jarecki is a great book. Anyone who works with women of childbearing age should read it. It is specifically about women who have planned home births and who end up in the hospital with cesarean births. It is written from many points of view, mothers, their partners, midwives, doulas, mental health professionals, etc. It's full of personal stories. It's about preparing for the possibility of cesarean birth, coping with the reality, healing, subsequent pregnancies and more. Although it is written about a specific group of women – those who planned home births and ended up with cesareans, it is valuable for all. Lots of women have cesarean births in the US, many of them hadn't considered the possibility in advance. Some of them are traumatized.
by Kimberly Ann Johnson: FINALLY, an excellent book about the postpartum experience!!! The author and I share many influences including yoga and meditation. She has done a spectacular job of synthesizing the wisdom of these influences into a practical, well-written guide for postpartum healing. She echos people like Pam England, D.W. Winnicott, Tami Kent, Stan Tatkin, Ellen Heed and many others. You must read this book! You must recommend it to ALL pregnant and newly postpartum people! In fact, anybody who has EVER given birth can move toward healing with this book.

These books are about body comfort and structural integrity:
by Julie Tupler- Hate the cover photo with the tape measure. Love the book. This book is really excellent. It isn't really about regaining your girlish figure after giving birth. This is a step-by-step guide to assess and resolve Diastasis Recti. You need to know about this so you can recommend this book to your students. This is the updated version of her prior title, Lose Your Mummy Tummy.
by Katy Bowman is wonderful. I have been reading her blog for years. She's a great teacher! Graze your way through the whole book in any order you like. She has arranged past blog posts by subject matter. Pay particular attention to the parts about the pelvis.
Walk the talk.:

by Deborah Adeleis is a must-read for understanding and embracing the yoga way of life. It's well-written and understandable.